Gymkhana 8 - Ken Block drifts in Dubai
Entry posted by Deeq ·
12,575 views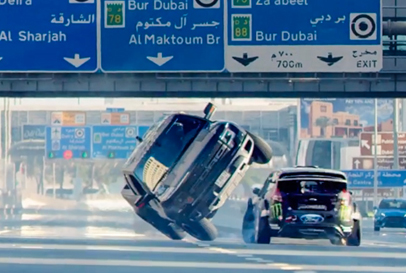 https://www.youtube.com/watch?v=_hf6ke1-i3EGymkhana 8 takes Ken Block out of warm Los Angeles for a trip around the world to the even hotter Dubai. The stunt driver uses the desert metropolis as a drifting playground for some amazing feats. He also ditches the all-wheel drive Hoonicorn Mustang this time and gets into a heavily prepped Ford Fiesta for the latest action.
Dubai offers the best scenery yet of any Gymkhana video, and Block takes advantage of the city's most famous sights for smoky drifts. Best of all, he even gets the police force's collection of supercars involved as barriers for well-controlled donuts, and they're a common sight in the background throughout the clip. Block also lines up for a very quick drag race with a quartet of supercars, including a Bugatti Veyron, and then heads to the airport to drift around a jumbo jet.
Gymkhana 8 is another fantastic installment in Block's superb series. He continues to create real world stunts that would be thrilling in a big budget film, but they show up in his YouTube videos. Stay tuned to the end to get a sneak preview of Gymkhana 9.