AM-RB 001 hypercar said to produce more than 1,800kg of downforce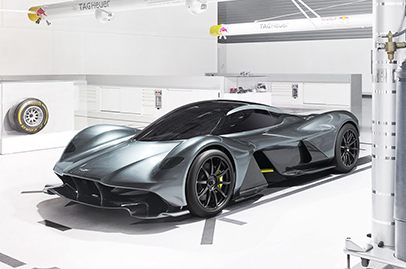 According to an article on the Wall Street Journal, the Aston Martin's and Red bull Technologies's AM-RB 001 will be able to develop more than 1,800kg of downforce.
Revealed by its designer, Adrian Newey, the crazy figure means that the car is said to be able to corner a up to 4g of lateral acceleration. In contrast, a Formula 1 car can only muster 3.5g while a McLaren P1 GTR manages only around 2.5g.
The magic in creating such high cornering force is thanks to the car's advanced underbody air channel design which will be so effective that the hypercar won't have to use a large rear wing that might ruin the overall design of the car.
Other headlining figures of the car include the ability to accelerate from zero to 320km/h in 10 seconds and it weighing a featherweight 1,000kg.