Goodyear's Oxygene tyre concept houses moss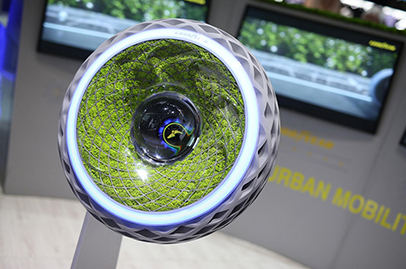 Goodyear's Oxygene tyre concept is probably as green as you can get with tyres.
Featuring moss housed inside the tyre, the tyre is equipped with unique open tread pattern which has been designed to absorb moisture from the road surface and then transfer it to the moss. With the moisture and light in the day, photosynthesis will be able to occur, allowing the moss to releases oxygen into the air.
Other releasing oxygen, the tyre also allows the moss to take in CO2 when it is dark.
According to Goodyear, if a Paris-sized city with around 2.5 million vehicles uses these Oxygene tyres, 4,000 tons of carbon dioxide could be eliminated while 3,000 tons of oxygen would be produced.
Beside the moss, the tyre is also puncture-proof and is constructed out of recycled tires which have been turned into a powder. It is also able to make use of the energy generated during photosynthesis to power its onboard sensors and electronics including a sidewall light strip and an artificial intelligence processing unit.