Cupra to become new standalone sporting arm of Seat
Entry posted by Deeq ·
4,496 views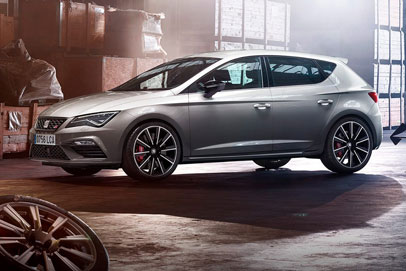 Seat has confirmed it is launching Cupra as a standalone badge - giving the Spanish car maker a more sporting, separate brand in the vein of Abarth from Fiat or DS by Citroen.
The new branding has been revealed, showing an angular logo, designed in the vein of a super-hero badge - all triangles, pincer movements and poised energy. It will replace the Seat badge on future performance models.
That copper colour is reminiscent of the detailing of the Seat Leon Cupra R we drove recently, suggesting that it will become the accent colour of the new brand.
Seat has issued precious little information about its new Cupra brand. In a brief statement, it announced: 'Today, Seat officially confirms the launch of the new Cupra brand and presents its new logo, giving a first glimpse of what Cupra will become. Cupra has always been the sportiest expression of Seat. Now the time has come for it to gain its own soul, its own DNA, its own identity by becoming a new entity. All new Cupra vehicles will feature the new Cupra logo.'
Expect Seat dealerships to adapt to the new branding in due course. It is not clear yet when the switch will take place, although it seems reasonable to guess it'll be later in 2018.
There is an official launch event of the new brand on 22 February in Barcelona and the company promises 'the first Cupra models will be introduced to the public at the beginning of March during the Geneva International Motor Show.'
This is a good question. Company boss Luca de Meo is a branding and marketing specialist and clearly believes the Cupra brand, which launched 20 years ago, is now strong enough to support its own range of cars.
It's a tactic that's been pursued by Abarth, which tunes up go-faster 500s and 124 Spiders, and DS, which has been spun off into its own sub-brand after years of pedalling poshed-up Citroens. The man in charge of Fiat at the time of the Abarth relaunch? None other than de Meo, during his time in Turin...
The aim of these projects is to raise consumer interest - and transaction prices - with the lure of greater performance, style and progressive luxury over their more humdrum siblings.