MSO has sent the McLaren 570GT to the dark side
Entry posted by Deeq ·
3,137 views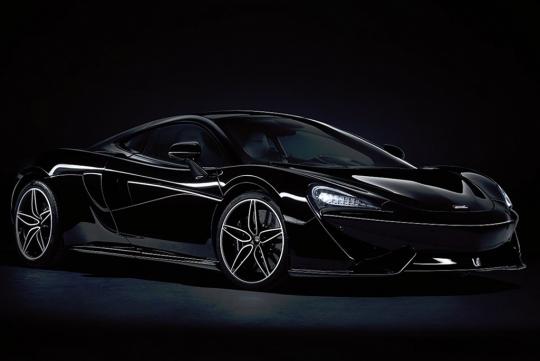 The McLaren Special Operations division was launched back in 2011 to provide a bespoke personalisation service for McLaren customers that wanted something a bit more special. This initially included fancy pants paint schemes, paint-matched key fobs and a barmy, Jetsons-like one-off called the X-1.
Now, Woking's atelier service has done a batch of black-on-black-on-black 570GTs for the people of the world who like things black.
Dubbed the 'Black Collection', McLaren has pulled 100 cars off the line to be lacquered and leathered in nothing but the black stuff. There's new MSO Bespoke Carbon Black paint, an MSO titanium exhaust (finished in black, obvs) as well as Macca's Sport Pack dynamic handling package to add some sportiness back into a car that had it taken away to be more of a GT. Odd.
Inside, anything that can be black is black. A tinted panoramic roof comes as standard, but for another £4,750, you can upgrade it to a fancy electrochromic roof. It's basically smart glass that allows you to select how much light you allow in the cabin. This, according to McLaren accentuates the car's sporty character.
Unlike MSO's other projects that are either one-offs or limited numbers, the Black Collection will consist of 100 cars worldwide.