Check out this insane shape-shifting off-roader
Entry posted by Deeq ·
4,219 views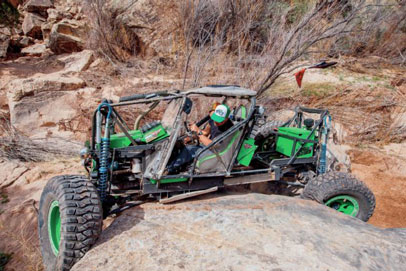 https://www.youtube.com/watch?v=NNVzFX9MkIUMeet Rock Dawg. A bespoke US-built rock crawler with quite a few mechanical party tricks. What kind of party tricks, we hear you ask? How about four-wheel steer, hydraulically adjustable ride height and, best of all, a go-go gadget hydraulic wheelbase extension.
These pretty hefty off-road accoutrements allow Rock Dawg to scramble up pretty much whatever the planet throws at it – just check out the video above to see what we mean.
The footage is from the King of the Hammer's 'Back Door'. It's an incredibly technical rock crawling section with boulders the size of minibuses that off-road enthusiasts are magnetised to try and conquer.
A lot of people end up on the roof tackling Back Door, but thanks to Rock Dawg's unique set up, it just scampers up the rockface, raises it fronts wheels and then extends its chassis from a 100-136-inch wheelbase to give it more purchase. Then, with a press of a button, the ride height is jacked up twelve inches and thanks to a torquey, modified VW 1.9-litre diesel engine, Atlas II transfer case and four-link suspension, it shuffles up the seven-foot boulders like it's a kerb.