American Muscle vs. German Engineering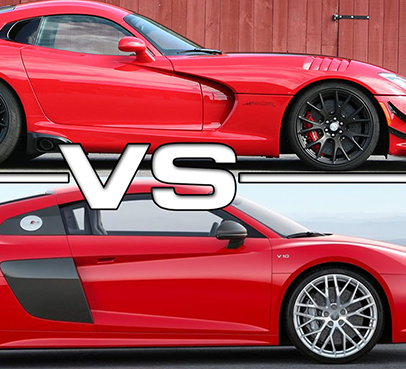 We found a video online showing these two V10 monsters on the road and it was a close fight.
The two cars on the video showcase the Audi R8 V10 PP-Performance vs Dodge Viper SRT10 Hennessy. Both mods bring up the car to over 600HP and over 1000HP respectively making these two cars speed kings. Their reported acceleration brings both cars from 0 - 100 km/h in 3.9 seconds and 4.1 seconds respectively.
Yet both cars are quite different. We have added in a comparison table for the standard specs on both the 2017 V10 models:
Again both cars are a beauty to behold leading us to the ultimate question.
If you had the opportunity to drive these beauties which one of them will end up on your bucket list?
The V10 Easter Giveaway
Which camp do you belong to? Simply tell us on our FB page or in the comments below on which car you would think would perform better on the track and one winner from each camp will win yourself a 1/64 Tomica Model SRT VIPER GTS or an AUDI R8
(Alternate color vr. both in RED)! Let the American muscle vs. German Engineering Race begin!
Winners will be decided on 2nd April 2018 GMT +8 00:00hrs