Red Bull's Ricciardo and Verstappen take each other out in Azerbaijan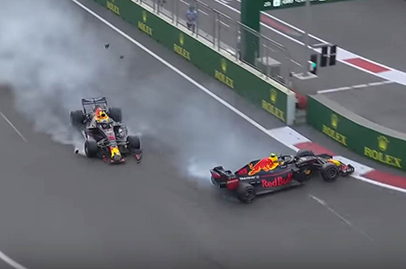 Daniel Ricciardo and Max Verstappen took each other out at the recent Azerbaijan Grand Prix, wasting valuable championship points in the process.
Both of them had been fighting each other throughout the race till the crash on lap 40 of the 51 lap race.
FIA was reported to give equal blame to both drivers as they concluded that Verstappen moved more than once to protect his position while Ricciardo admitted that he left his move too late.
Red Bull has announced that they will make both drivers apologize to the entire squad at its headquarters in the U.K.
https://www.youtube.com/watch?v=36YFQTFzZwU&feature=player_embedded