Quick look at the new Ford Fiesta ST 2018
Entry posted by Deeq ·
2,267 views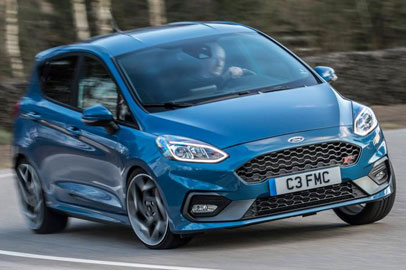 The hot hatch sector isn't short of competition, with the Peugeot 208 GTi by Peugeot Sport and the new Toyota Yaris GRMN ramping up the level of focus on offer in this pocket rocket class – which means Ford has its work cut out with the new Fiesta ST.
Chief among the engineering advances to achieve the first part of the above is the car's new 1.5-litre three-cylinder turbocharged engine. It kicks out 197bhp and 290Nm of torque (with an overboost feature to deliver a 20Nm hit like on the past ST) and with an optional Quaife limited-slip differential to help improve traction, and launch control as part of the Performance Pack, it's good for 0-100kmph in 6.5 seconds.
The move to a three-pot caused a stir, but the engine is said to be strong, as according to some sources, pulling sweetly from low down with a broad spread of torque and revving hard. However, where the old 4-cylinder car used to bark higher up, this 3-cylinder feels like it's given its best by 5,750rpm.
It makes a gruff note, enhanced for the first time in an ST by some electronic trickery. This ramps up depending which of the three driving modes you have selected (another first), which range from Normal to Sport and Track. In the latter two settings the Electronic Sound Enhancement is supported by an active exhaust valve that introduces some overtly sporting pops when you lift off the gas.
You have to drive this car and manage many things, which should be celebrated compared with some of its more anodyne, one-dimensional rivals. This broadening of the ST's range is impressive and definitely a welcome step, but it hasn't come at the expense of the Fiesta's head-banger character. Performance wise, it feels even more serious.
It's available in three- and five-door body styles, while the 292-litre boot is unchanged over the standard Fiesta, so it covers the practicality bases a compact hot hatch should – another of which is efficiency. It is unclear if this model will make it to our shores, and even if it does, there may be limited units for sale.