Toyota CEO is the owner of this one-off Century GRMN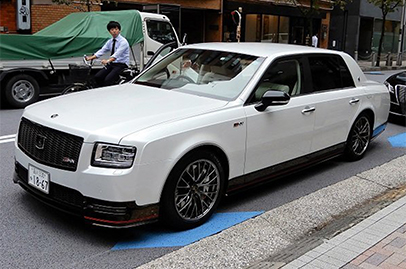 Spotted a couple of weeks ago online, a photo of a dressed-up Toyota Century surfaced online, sparking rumors that Toyota's racing arm has developed a GRMN variant of the Century.
For those who have not heard about the Century, it is Toyota's flagship and is only sold in Japan. Usually bought by high-ranking officials or the extremely well-off, the sedan has just been refreshed earlier this year. It uses a 5.0-litre V8 engine that produces 376bhp and 510 Nm of torque. Paired with an electric motor, luxury sedan outputs a total 425bhp.
So what about this white GRMN-blessed Century? Apparently, it is Toyota CEO's latest toy and it spots a custom bodykit with black trimmings from GRMN, new wheels wrapped with Yokohama Advan tyres and a small carbon fibre rear spoiler at the rear.
According to Carscoops, Akio San was quoted telling journalists who had spotted him going into the car "not to drift" the Century as it has been fitted with a load of expensive development parts that remains unknown till date.
Is this a PR stunt by Toyota? We have no idea but it does at least prove that Toyota's leader can be a fun-loving person at times...