A brief history of the Toyota Crown in Singapore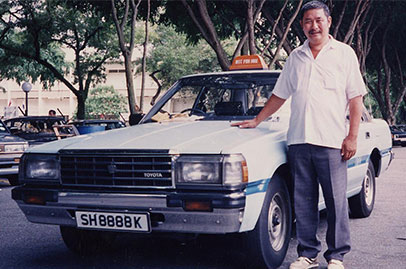 Two decommissioned Toyota Crowns remain in Singapore and they will be replaced by Hyundai Sonatas upon request.
Considered the "King of the road" in Singapore from the 1980s even up till 2006! You could look anywhere on the road and spot a Toyota Crown Taxi (or more) with ease.
Here's a brief guide on the evolution of the Crown over the years!
1970s – Toyota Crown S120
The crown gained popularity with taxi companies in Singapore along with the Nissan Cedric and Isuzu Florian. Modifications were done to these cars to lower operating costs over comfort. If you've ever sat in one of these, you'll never forget the noises and vibrations that come along with the ride. At times, you would feel like you might not get to your destination in one piece!
1980s – Toyota Crown S130
NTUC-Comfort were the biggest players in the taxi industry with an estimate of 6300 cars (most of them Crowns) on the road. In 1988, The Crown was the first Toyota to come with an airbag! Air-conditioning that used to be a luxury were also fitted into most taxis.
1990s – Toyota Crown S130 receives a facelift
The Crown sedan received a minor facelift but retained its S130 roots. This model gained the most popularity in Singapore and featured iconic round headlights and chrome bumpers. It was fitted with a 2.4-liter diesel engine and was an extremely fast car. If your taxi driver was feeling a bit heavy footed that day, you would have one fun ride!
2000s – Toyota Crown Comfort
Featuring smaller exterior dimensions but a more spacious and as its name suggests, comfortable interior, The Crown Comfort received much popularity in Singapore, Japan and Hong Kong. This model would be the last of the Crowns that would touch Singapore roads. Hyundai Sonatas started to dominate the taxi industry as more Crowns were decommissioned and scrapped.
Millennials won't understand the thrill of taking a ride in a Crown was equivalent to a ride at Universal Studios Singapore. It's been one hell of a journey Toyota Crown! You'll be missed!