Ferrari's latest one-off special is an F12 tdf speedster
Entry posted by Deeq ·
449 views
Ferrari's developed a new business in one-off specials for the wealthy, and its latest car is this, the SP3JC. Its distinctly unsexy name is a red herring; this is a deeply exotic car which ought to be slightly terrifying to drive.
Hiding beneath its roadster body is an F12 tdf, one of the lairier Ferraris of recent years. If you need a reminder, that means a 769bhp 6.3-litre V12 that'll rev to the heavens and spin the rear wheels if you dare be the slightest bit clumsy. It's an enthralling car, and removing all semblance of a roof ought to feed even more of its nape-prickling noise right into your ears. Wonderful.
That engine is such a work of art, the SP3JC's customer has requested glass panels in the bonnet to show teasing glimpses of it. Other styling flourishes include carbon rollover hoops and some intricate alloy wheels.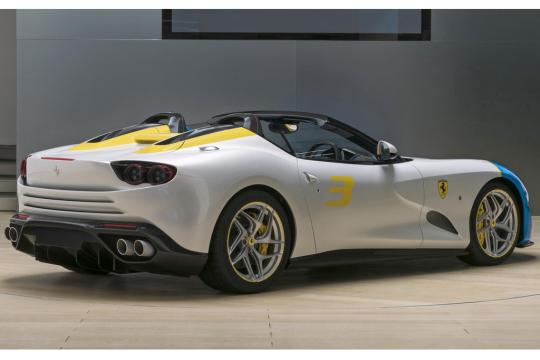 Beyond the headlights and front grille, the styling takes a major detour from the F12 tdf, not least because of the razored off roof. The colour scheme has been dictated by its client's love of pop art. Their brief was for a "pure, uncompromising roadster", which is something we can really get on board with.