Driving in East Kyushu with Follow Me Japan (Part 1)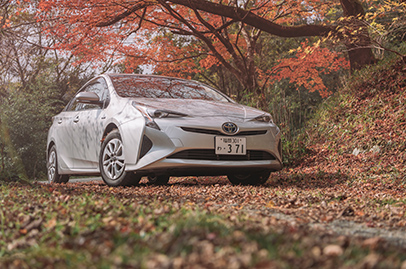 MyCarForum and sgCarMart recently went on a trip with Prime Follow Me Japan to East Kyushu, Japan. With advancement in GPS technology, Follow Me Japan (FMJ) wanted to show us how easy it is to drive around in Japan. Gone are the days where you would need to know how to converse and/or read Japanese to get around in a car.
Before we show you some highlights of the trip, we would like to explain that FMJ's tour is different from a usual tour whereby you just sit in a coach and it brings you from one attraction to another. It is also different from a self-drive tour as everything from the GPS coordinates to the toll fee card (ETC card, the equivalent of our cashcard) has been prepared beforehand.
In short, this Follow Me Japan tour mixes the advantages of a guided tour with the flexibility of a self-drive free and easy tour. Not interested in a certain attraction on the suggested route, just move on to the next! Want to spend more time at a certain attraction? No problem, meal times can be shifted accordingly without affecting the others in the tour group!
Anyway, you get the idea. Less talking from us then. Here's how our seven-day trip went...
Day 1 - Fukuoka to Beppu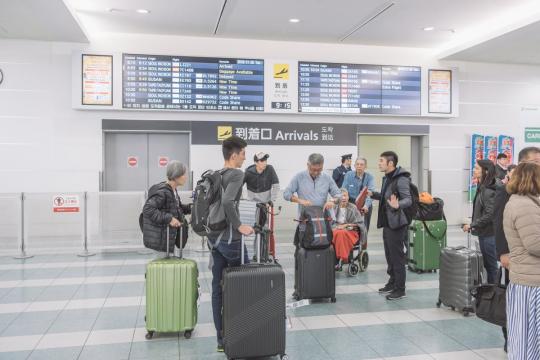 Like most tours, everyone gathered at the arrival area of the airport on the morning of 20 November. Unlike most tours, not everyone in the group flew in at the same time. Some came into Fukuoka a day before while others joined us on day two.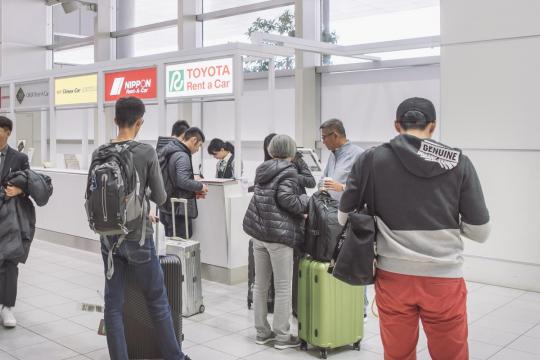 We made our way to the Toyota-Rent-A-Car booth where we handed over our International Driving Permit and passport, which was needed for registration. Thankfully, our guides, Yuta-san and Anna had already settled all the paperwork beforehand.
As the cars were not parked near the airport, we were loaded into a shuttle service to collect our cars.
We were then told to go to our respective cars which ranged from the smaller Axio hybrid and Aqua (a.k.a Prius C) to the Vellfire)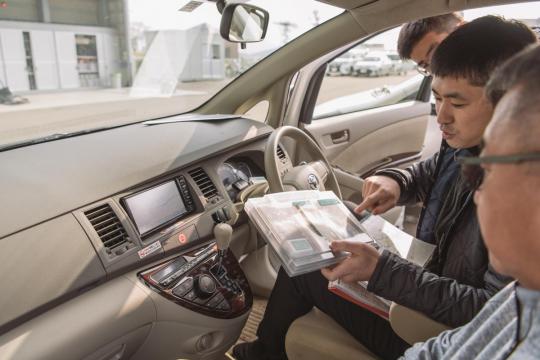 Each of us were given a box with all the necessary equipment, like a 12V car USB charger, ETC card and a local Japanese phone. We were very thankful for the USB charger and the ETC card.
Inserting the ETC card so that when we went past toll gates, we didn't have to fumble for coins and notes.
The phone was provided for those who wished to use it for calling our guides when help was needed. For those who are wondering, these are present-day Japanese phones and not things from the early 2000s.
Yuta-san then briefed us on how to get from attraction to attraction. On another note, we learnt that very day that the Toyota ISIS has no b-pillar...
Every family/group on the tour had a booklet that contained all the necessary information to get us from place to place.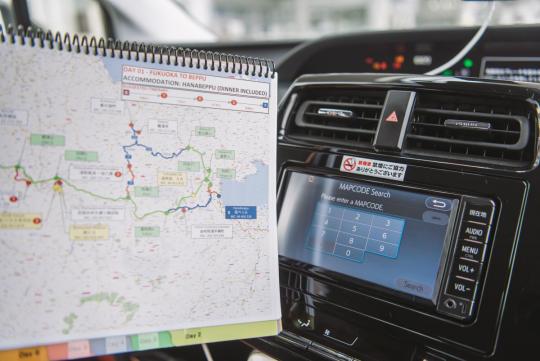 The map showed us where we would be heading daily, with the coordinates to key into the car's GPS. All we had to do was to follow the GPS' instructions and drive ourselves there.
Here's another plus point of doing a self-drive trip with Follow Me Japan; family members with disabilities can also come along for the trip and get around easily.
After keying in the coordinates, we started driving towards our first attraction. Immediately, we went through a toll. It was as straightforward as it could get. All you had to do was to drive under the sign with the words ETC at around 20km/h and the gates would open as you got nearer.
This is a typical Japanese highway or toll road, as they call it. We kept to the left-most lane first as we tried to monitor how the Japanese drove. We then concluded that there was no real need to keep strictly to the speed limit. They are much more considerate and give way much more readily.
It wasn't long before we needed a toilet break. For those who have never driven up North, this is the Japanese equivalent of the Rest & Recreation stops along the North-South highway.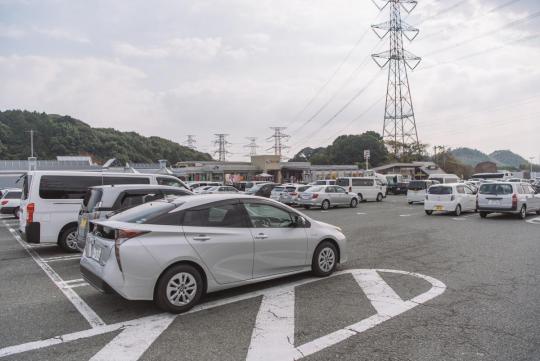 Unlike the Malaysian ones, these are much prettier and cleaner. It is basically like a mini-mall.
This is how the GPS unit on our Toyota Prius looked like.
We were surprised to find Auto high beam as a standard feature in the car. It was put to good use in Japan.
Upon reaching the first location (Akizuki), We realised we had to pay for parking - 300Yen or S$3.60 per entry to be exact.
Akizuki is a castle town and is full of nicely preserved old buildings from the Meiji-Era.
In the middle of it is a street full of quaint tea shops and pretty cherry trees.
Onwards to our next destination, we chanced upon some lovely b-roads. The Prius did decently well in terms of handling with an accurate steering and a well-judged suspension setup. You could really feel the weight of the battery underneath the centre of the car keeping the centre of gravity low.
During the trip, we went past many towns and villages with roads like these. Nothing unmanageable, but speeds are low.
One thing we loved about driving in Japan is the amount of convenience stores around. Everywhere we went, there always seemed to be one around the corner, allowing drivers passing through towns a quick toilet break and bite.
A little tip - our tour guide Yuta-san, said Lawson is the best convenience store as their chicken karaage is the best.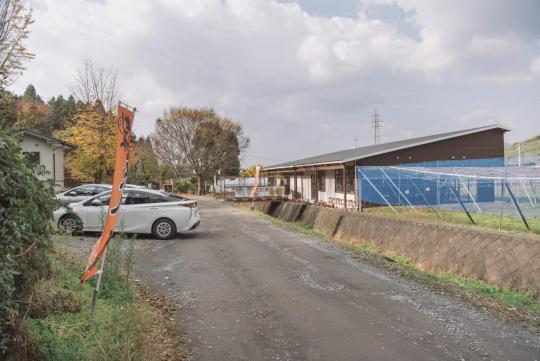 We reached our second stop for the day (Yamandon Fruit Farm), where we picked some sweet persimmon and ate them on the spot. We also had the option of shipping them back to Singapore.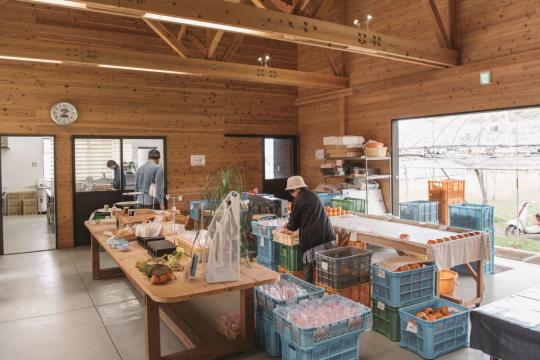 Moving on to our last chosen destination for the day (the sun was already setting at four-plus in the afternoon), we keyed in the coordinates again in the GPS. For those who didn't notice, the GPS actually gave us a few routes to choose from. On many occasions, you could take the easy way out by going onto the expressway or take the more adventurous one consisting of longer winding roads.
We usually chose the longer and snakier roads as you can see... They usually paid off with the very pretty sceneries.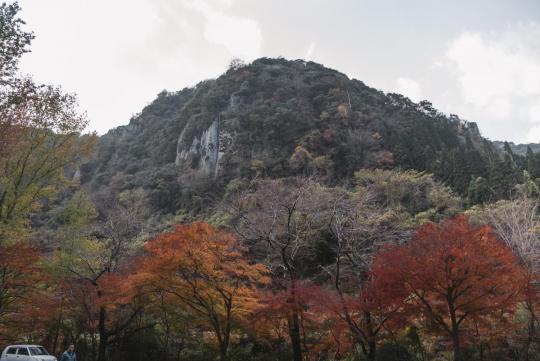 This is the Shinyabakei Gorge, which is basically a scenic little village with colourful trees everywhere. We loved the red autumn foliage in here.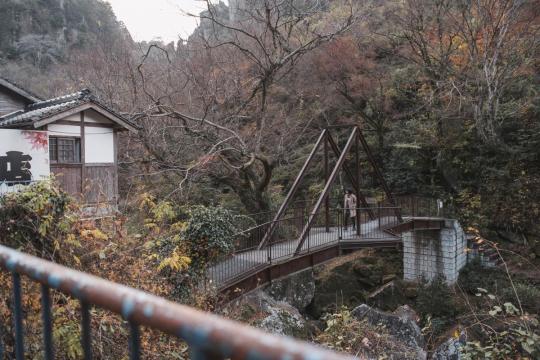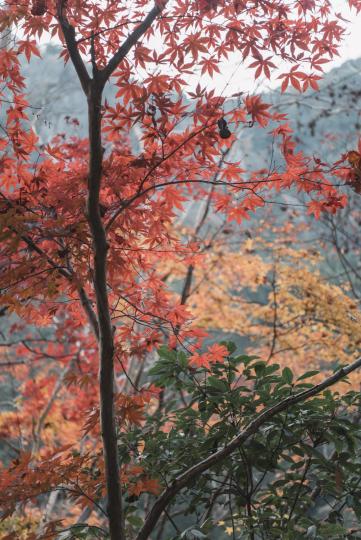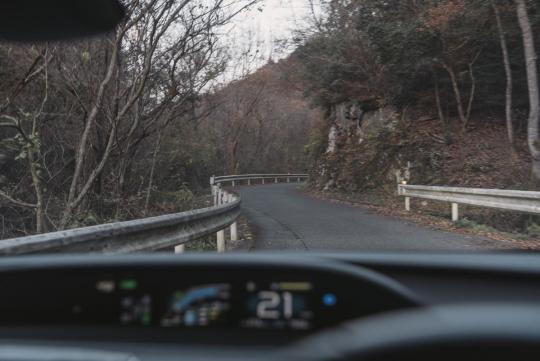 With the light fading away fast by 5:00pm, we headed towards our hotel in Beppu. Unsurprisingly, we chose the winding roads on the GPS and met with some slightly narrower lanes than usual.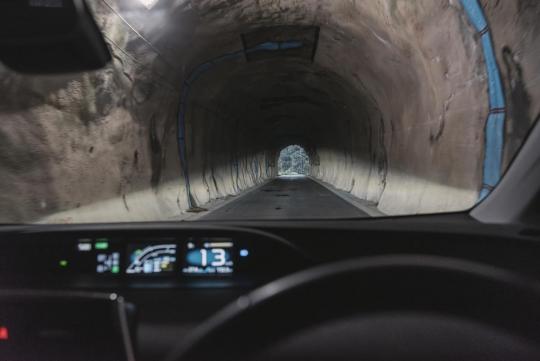 Check out this one-lane but two-way tunnel! The Prius's LED head lights performed very well in here.
We reached our hotel (Hanabeppu) just in time for dinner, which was usually set at 7:00pm.
At dinner, our guides made sure our stomaches were well filled before they proceeded to brief us on what to expect the next day. If you did have any questions regarding the next day's itinerary, this was the time to ask.
Before we ended the day, we were told that if you found your pillow not to your liking or the shower robe ill-fitting, you could come to this room to choose an alternative. The hotel staff would then send whatever you chose up to your room.
Day 2 - Beppu/Yufin
After a good night's rest, we woke up to hearty breakfast.
We were soon on the road again but we had to stop by Autobacs while en route to Beppu Hells. You could get some accessories at more attractive prices here.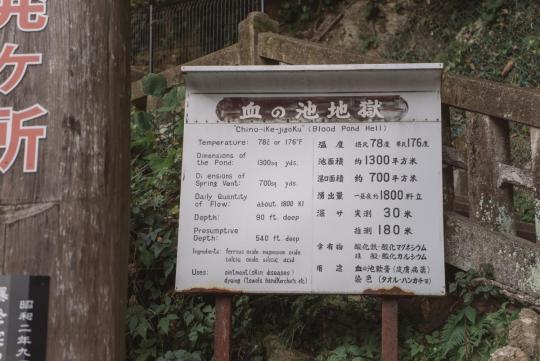 We went to Blood Pond Hell first as it was the most intriguing hot spring in the area. Thanks to the large amount of ferrous minerals at the bottom of the spring, the water appeared to be red in colour.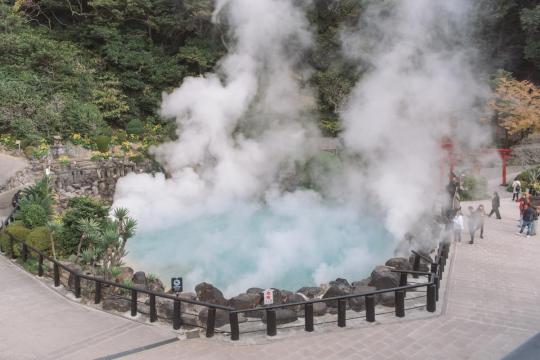 Not too far off, Umi Jigoku (Sea Hell) resembles a sea with its turquoise-coloured water.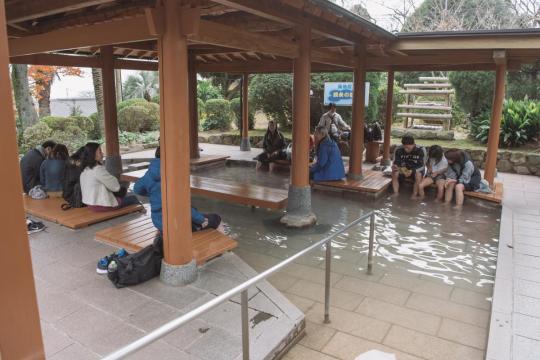 You could also dip your feet in its spring water, too, if you felt like it.
Next up, we hit the African Safari Park in Ajimu.
This is no ordinary zoo as you can actually drive into the park and look at the animals really up close!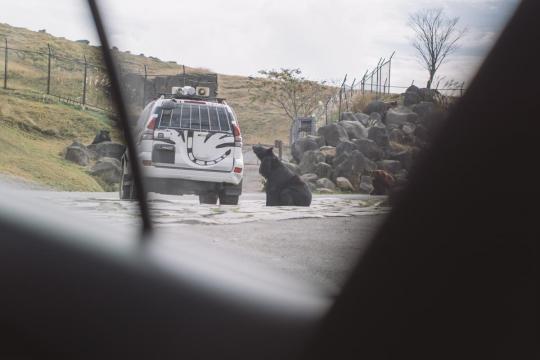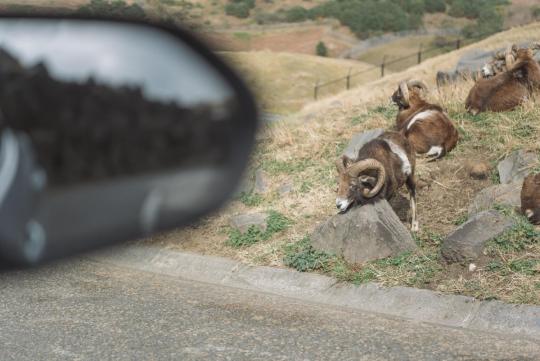 Those that don't want to drive can also hop into their bus, which allows you to feel some of the more tame animals.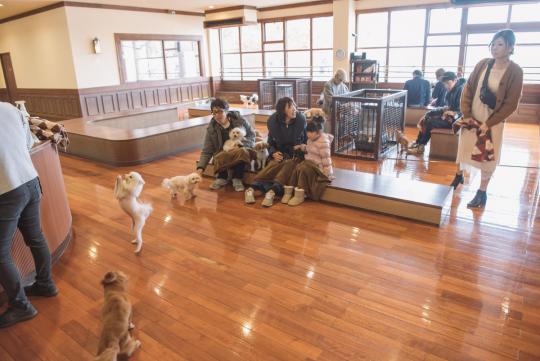 Kids can get closer to even more tame animals like little ponies, dogs and cats.
It was past 2:00pm after all the excitement at the zoo and our stomachs growled in protest. We drove to one of the last-minute recommendations by our guide for lunch and boy, we were impressed.
Check out the view from the restaurant!
Known for its soba, the restaurant is situated in a quiet area near the town of Yufuin.
After lunch, it only made sense to head into Yufuin town.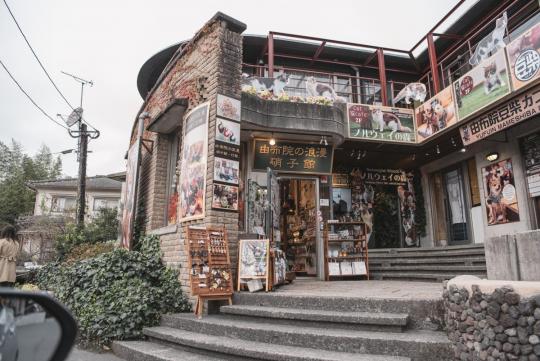 Lined with craft shops and cafes, those who like to chill out will love this small town.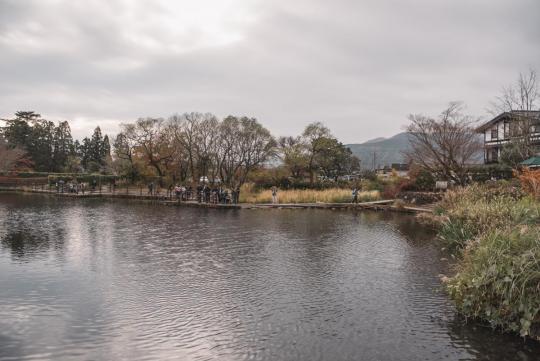 Hidden in a corner of the town is Lake Kinrin, which is well-known for its dreamy-like mist that rises from the warm waters in the morning air. Obviously, we didn't see anything like that at 4:00pm in the afternoon.
It was getting dark again and we headed back to the hotel.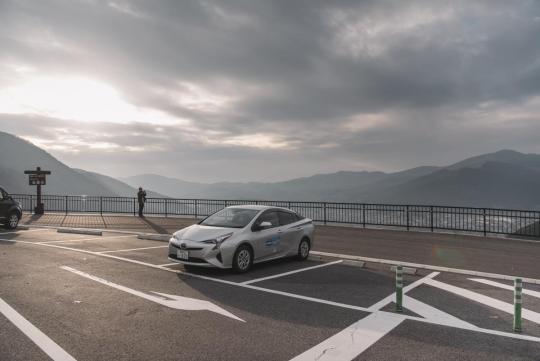 On the way back, we stopped by the Asokuju National Park Sagiridai's lookout point
While the view was amazing, it was really chilly with the strong winds blowing and temperatures hovering under nine degrees!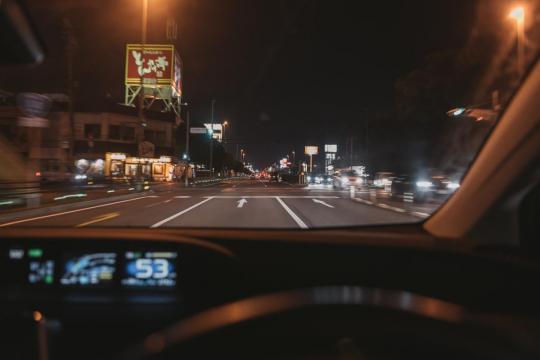 It was night time by the time we reached the hotel.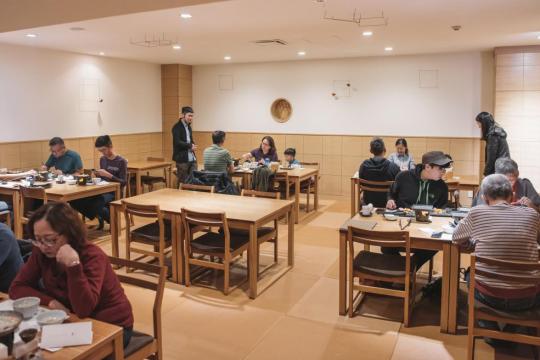 Like the night before, we were briefed on what to expect the next day during dinner before we called it a day.
To be continued in Part 2...