Next BMW M3 to come in three variants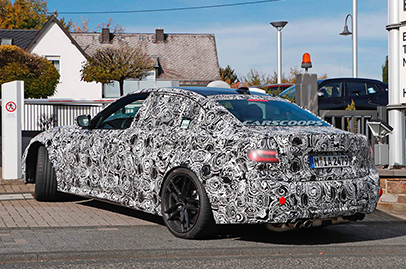 Likely to be inspired by Porsche's strategy in marketing its 911s, BMW is rumored to sell its upcoming M3 in three different forms to cater to a wider market.
According to Carscoops, BMW will debut the M3 in with a Pure, Base, and Competition trim level. Starting with 'Pure', the M3 will be 'purist' choice with the lightest kerb weight of the them all. It will also have least amount of power (444bhp) from its 3.0-litre turbo engine.
Meanwhile the 'Base' will get around 475bhp with the Competition flagship getting 500bhp.
As a comparison, the current-generation M3 CS makes 454bhp while the standard M3 has 425bhp.
Interestingly, the Pure will only be available with rear-wheel drive and a six-speed manual transmission while both the Base and Competition models will use BMW's xDrive all-wheel drive system and an eight-speed automatic transmissions. All three grades will get an M differential and adaptive suspension with the Competition variant having carbon ceramic brakes as standard.