The purple pickup truck a.k.a Thanos Car
Welcome the Thanos Car. For some it's just a purple truck but to the rest of the internet this purple Toyota truck is fast becoming a phenomenon with over 6,500 points (100% upvoted) and 125 comments in less than three weeks.
For those who are unfamiliar with the meme, here here is one that we found on the web: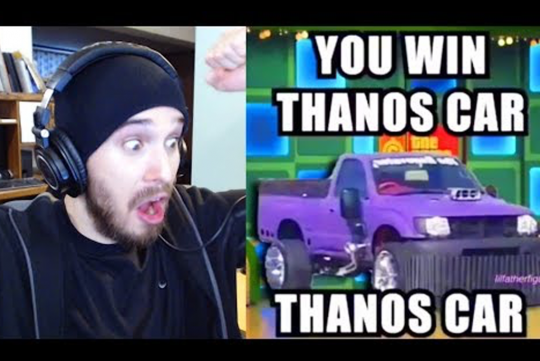 And some history on how it started:
The following year, on September 7th, 2017, Redditor[2] SickZX6R reposted the photograph in the /r/Shitty_Car_Mods subreddit. Within one year, the post received more than 14,000 points (95% upvoted) and 640 comments.
Two months later, on November 7th, 2017, Redditor[3] t_a_6847646847646476 posted another image of the truck in /r/Shitty_Car_Mods subreddit. The thread was titled "This pic of Sean The Renovator's truck was posted to one of my Facebook groups. Looks like it's in its final form now…". This image (shown below) shows a much higher quality perspective of the truck. The post recieved more than 61 points (95% upvoted) and 13 comments.
On July 12th, 2018, Redditor[4] chestnut_mcgee posted the image in the /r/ThanosDidNothingWrong subreddit. They titled the thread "Literally just a truck that looks like Thanos" (comparison to Thanos, below). The post received more than 980 points (98% upvoted) and 20 comments.
Thanos Captain America Hulk Iron Man The Renovator TCHENS 919.960.6014 FLOORS Thanos car vehicle pickup truck truck off road racing automotive tire bumper automotive exterior
On August 25th, Redditor[5] caw_blade posted an image of the car with the caption "THANOS CAR THANOS CAR" in the /r/okbuddyretard subreddit. The post (shown below), which has been read as a sarcastic post about the reaction to the car, received more than 6,500 points (100% upvoted) and 125 comments in less than three weeks.
Let us know your thoughts. Is this the best representation of the Thanos car yet or what?