This Abang's gangster behaviour got me super pissed off (even when I'm typing this)
In a video submitted to Roads.SG and uploaded on YouTube and Facebook, a recent case of road rage has got me fuming mad with a particular individual. However, I'll try to be as civil and professional as possible.
The video was just uploaded about 3 hours ago and has already received more than 100 shares on Facebook.
Here's the video, in case you haven't seen it.
Video from Road.SG YouTube channel
The driver and his mother were entering a HDB estate and driving towards the entrance of a carpark when a white Honda Vezel almost has a head-on collision with their car.
Screenshot taken from Roads.SG YouTube Channel
Reviewing the footage, you can see the Vezel was on the verge of crossing the white line to the opposing lane.
The dashcam driver gives a honk, accident averted, and that should be the end of the story yes?
No.
An Abang decides that there was an injustice with the horn and goes all aggro on the dashcam driver. Abang wasn't even the driver of the Vezel!
Abang: 
Quote

"Why, you so near want to hit the car ah? You blind is it? Drive properly la!"
The relationship between the Honda Vezel driver and Abang is not clear.
Dashcam driver tries to defend himself and asks the Abang to look at his dashcam footage for proof, to which, the Abang says "don't need" multiple times.
The spark to the argument
The dashcam driver then says "Nevermind, LTA will see" and intends to drive off, but Abang 
Quote
Dashcam driver loses his cool and disregarding the warnings of his mother, he steps out of the car to confront Abang.
Abang asks a damn stupid question - "What's your problem?". Dude, the problem is you.
But, I digress. Moving on, Abang starts screaming his lungs out at Dashcam Driver. He's so fierce that Dashcam Driver actually starts shivering (the subtitles in the video helps a lot).
Screenshot taken from Roads.SG YouTube Channel
Shifting over to camera phone footage
All this time, we only caught a slight glimpse of Abang. But with video footage from a camera phone, you can now see Exhibit A of the Singaporean Douchebag - Angry Abang.
Screenshot taken from Roads.SG YouTube Channel
I don't know about you, but when he starts laughing at the camera and saying shit like:
Quote

"Oh my god, my face so handsome right? I know"
Doesn't it tick you off? 
The last straw
My blood boils to its very core when he starts shouting at his mother - for presumably getting angry with his stupidity and trying to talk some sense into him.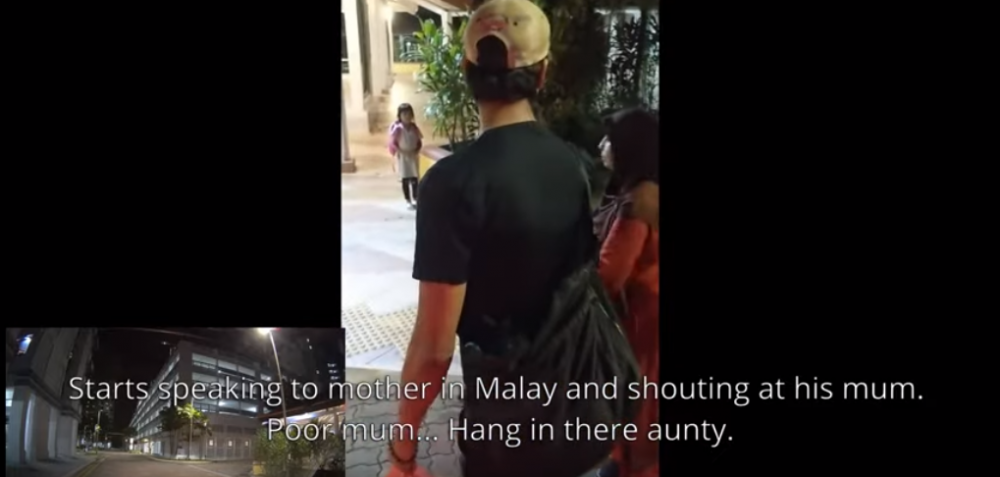 Screenshot taken from Roads.SG YouTube Channel
Abang, you sir, are a turd aka shit.
That's as vulgar as I can be in this article.
What the people say
Can get wife meh like that?
Comments taken from Roads.SG Facebook page
What do you think?