Fatal accident could spell the end of the discretionary right-turn!
A video showing a white car failing to check for oncoming traffic while doing a right turn has gone viral.
Unfortunately, the consequences were unpleasant as a Foodpanda motorcyclist was killed in the process.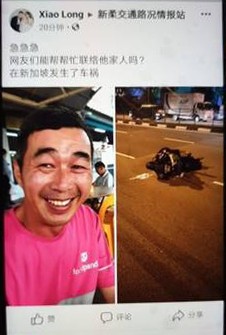 The motorcyclist, a 41-year-old deliveryman from Malaysia, was unconscious when help arrived and eventually succumbed to his injuries at Ng Teng Fong General Hospital. He was reported to have been thrown 30 metres due to the impact and suffered brain injuries as a result.
According to Stomp, the accident took place at the junction of Toh Guan Road and Boon Lay Way at 7.58pm on the 10th of March.
The 36-year old Mercedes-Benz driver has been arrested for dangerous driving causing death.
There has been a debate that discretionary right-turn junctions should be abolished as there has been an increase in accidents related to it. Could this signal an end to such junctions?
1