This is not the way to make friends with a fellow VW owner
For most owners who are into cars, they will tend to want to meet owners who own the same car/model as themselves. Hence from time to time, we will see many brand/model-based car clubs gather at places like the indoor stadium to chat and get to know more about their cars.
However, we are kind of sure these Volkswagen drivers in the video below won't be friends anytime soon...
Uploaded on ROADS.sg, we can see a Volkswagen Golf coming from the opposite direction before colliding straight on with the camera car (a Volkswagen Jetta).
The accident happened on the morning of 22nd of April at the PIE interchange between Jurong Town Hall Road and Bukit Batok Road.
There were no reports as of press time of what caused the Golf owner to drive into the opposite lane. We hope he did not faint or suffer a heart attack, causing him to lose control of his car.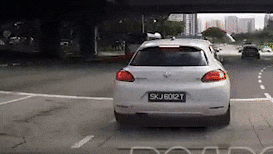 We did noticed the Scirocco (yes, another Volkswagen) moving away from danger as the Golf came closer. Good reflexes dude.
Maybe if they stayed at home, such things won't have happened...