Mercedes comes up with a unique style of U-turn by crashing through the centre divider
Well kids, welcome to Monday, and to start a new week we have this video that is proof that not all crazy and or whacky events that take place in Singapore necessarily have to happen in Yishun. For once, the east gets to have its own slice of the action, right along East Coast Road. 
To be frank, this writer likes the way the Mercedes looks. From the video, it looks to be a C-Class with some black wheels on white paint. Good combo. But that's where the good part ends.
First of all, how were you driving to even make a u-turn at that spot anyway? Lest this writer forgets, "creating a space for a u-turn by crashing through the central dividing fence" wasn't in the basic or final theory handbook in driving school. If there was a recent addition like that, please let this writer know.
It's a pity the video doesn't show how the Mercedes got themselves in that spot to begin with, but this writer will say that the driver is very determined to get his/her car out of that spot, despite all that expensive scraping noise that is sure to result in some interesting patterns and or damage for the undercarriage. Also, the Mercedes also completely ignored the man in a grey shirt who was walking towards the car, perhaps in a futile bid to find out what was going on or just to render some help.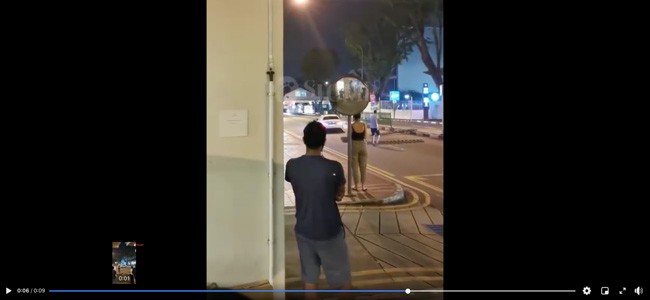 It is somewhat amusing to this writer that the Mercedes just accelerates away, leaving behind a mess of strewn metal fencing and a bevy of confused onlookers. Takes a real boss to do that, driving away nonchalantly with that "I can't be bothered with you lot" attitude. Here's hoping at least someone got the plate on that Mercedes as well, so that he can be asked... 
But honestly people. Don't drive stupid. Almost everyone has a smartphone today and so many cars have dash cameras. Do something silly, stupid, idiotic or all of the aforementioned and you may stand a chance to appear here on this very blog. Or any of the associated Facebook pages dedicated to, uh, giving you your 15 minutes in the spotlight for horrendous driving. 
And if that Mercedes driver does read this, would you care sending some photos over of how your undercarriage looks like now? Just for kicks.