Malaysian truck driver might have escaped a fine and demerits by some miracle
So a quick disclaimer before we continue - We don't know what might happen after the Traffic Police gets alerted to this video evidence, or they might have even stopped the truck driver after the video got cut off. But what's happening in the video seems rather peculiar. 
Shared on SG Road Vigilante's page is this video of a Malaysian truck doing more than 90km/h on lane 1 on PIE heading towards Tuas on the 22nd of February 2021.
Sometime later in the video, the Traffic Police closed in in their car and it looked like they had the intention to notify the Scania truck of its offence. 
Naturally, most of us would go "haha the truck sure get it from the Police!" but no, nothing happened!
What a miracle for the truck driver. But, as I mentioned at the start of this post, the Traffic Police might act after watching the video. It's a little too early to celebrate yet Mr Truck Driver.
Here's what some netizens had to say about the matter.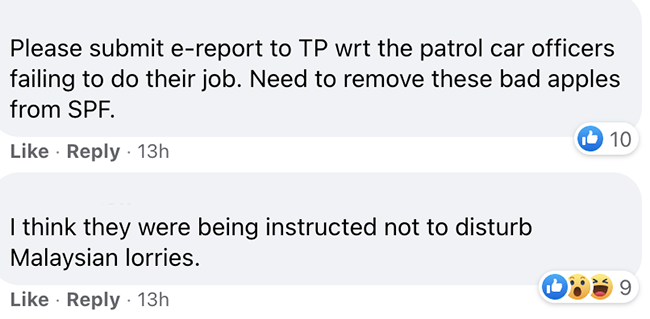 What do we think? Well, if he got off without any punishment, he should consider himself lucky and not do it again.