Motorcycle (with J license plate) cuts in from left, gets mowed down by Toyota Wish
This, kids, is why they kept telling us in driving school, don't abruptly cut in front of another motorist from the left, because the odds are they won't see you, and should it be a worst case scenario....
When everyone is at the lights, all seems well. The motorcycle on the left is a GrabFood rider, and he rides off straight. It is only after the GrabFood rider goes off a little in the distance, that the Malaysian motorcycle suddenly cuts in front of the Toyota Wish, who seems to not be wanting to turn but instead going straight. 
Now before you blame the Toyota for "why is he going straight in a turning lane", watch the video. 
The lane the Toyota is on can be used to turn right or go straight. Now, I am assuming the Toyota did not turn on his right signal, indicating that he didn't want to turn at the junction, he wanted to go straight. But as the light turns green, the Malaysian motorcycle just dandily cuts in from the left and right in front of the Toyota, giving the driver barely any time to react. No matter how hard you slam on your brakes, people, cars don't cut to an immediate stop like they do in cartoons. It's called physics.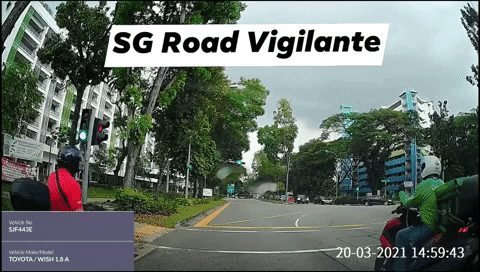 Now, I'm not pointing fingers at anybody, but I believe the Toyota didn't even realise that the motorcyclist was in front of him until it was too late. But really, the Malaysian motorcyclist should have known better than to cut in front of a car in such a carefree manner. Whether you're in JB or not, I don't think most drivers would expect a motorcycle to sudden appear in front of them and prepare to turn right as one is heading straight. Ultimately, let's just hope that everyone involved in the accident is all right.
Rules, people. They exist for a reason.