What did the tree do to deserve that, Maserati?
The Maserati GranTurismo is what I would call your "entry level supercar" or "pseudo supercar". It's not the fastest, neither does it handle the best, and its horsepower rating of 399bhp to 453bhp isn't what one would call lacking (depending whether you get an earlier or later model), it isn't up-to-par with the supercar horsepower levels of today. Off the top of my head, the least powerful supercar on sale today (I could be wrong) is the Audi R8 with 532bhp and rear wheel drive. Still, what the Maserati GranTurismo (and its convertible sibling, the GranCabrio) lack in horsepower, they more than make up for it in a sonorous exhaust note and Italian flair, as seen in this video.
Also, the Maserati GranTurismo, especially the older, COE renewed units tend to be more affordable for a sports car, as seen here. Thus, with a low cost of entry (for a sports car), there are bound to be some people who would spring at the first chance of owning something that is exotic, two-seater and containing a Ferrari engine (yes, the V8 engine in the GranTurismo is from Ferrari, why else do you think it sounds so good?), and some of these drivers aren't exactly what you would say, experienced when it comes to driving a car that is rear-wheel drive and having double or more than double the horsepower of your average car in Singapore.
Now now, I'm not pointing fingers here, but sometimes, the evidence speaks for itself.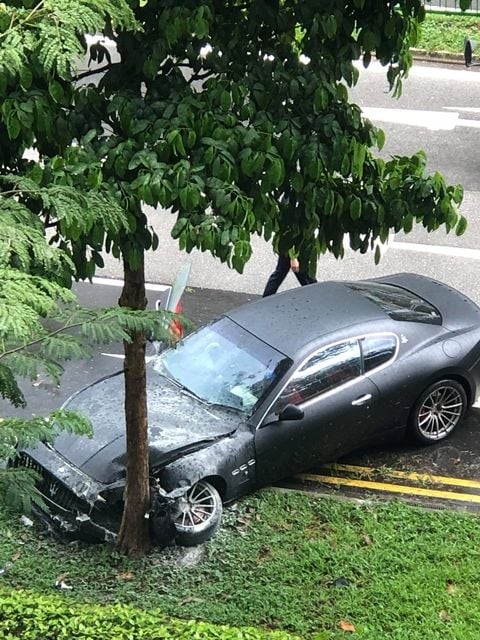 I don't think that's going to buff out.....
Yup, definitely not going to buff out.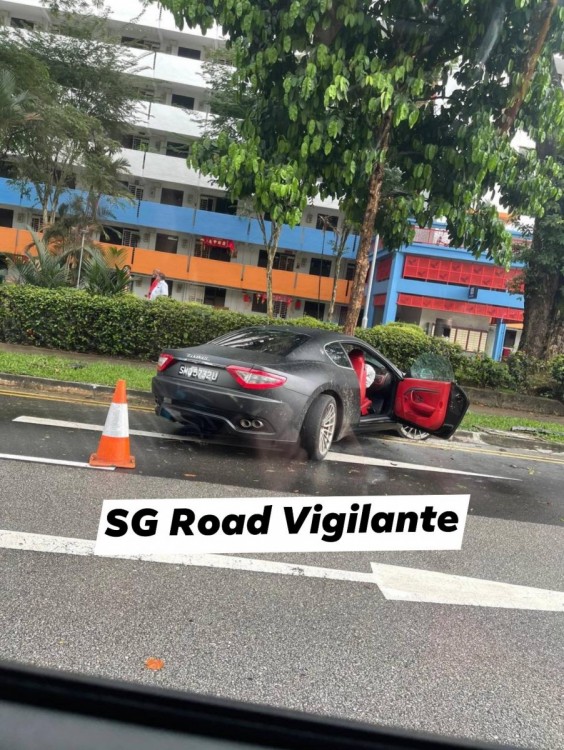 I've heard of rear-wheel steering but that is some rear wheel angle right there.
Doesn't look like that tree fared too well, either.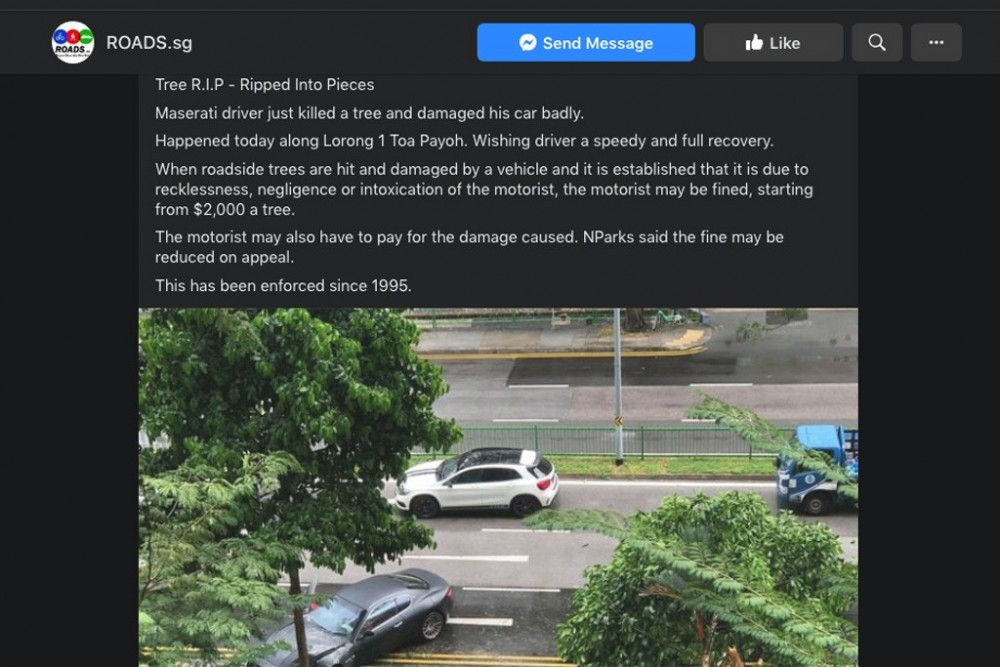 Also, I did not know about this, but you can actually be fined for crashing into trees, starting from $2000 a tree? Wow, that's, uh, gratifying to know. I know that if you damage public property like lamposts, railing or fences in a traffic accident, you have to pay for those, but fines starting from $2000 for a tree? 
One can only guess what happened to cause that accident. At the time of this post being written, which is the evening of 24 March, it has been raining for the better part of the afternoon, roads are still kind of damp from the rain, and the skies still look grey, which could possibly mean more rain later tonight. And judging from the pictures, the roads were wet, so either the driver of this car was having a bad day, or was driving a little too exuberantly on wet roads and didn't have the skill to keep him or herself out of trouble, or had tyres that couldn't really handle the wet asphalt. Now remember, these are all speculations, and I do not know what caused the accident. Let us wait for news from the proper channels to come out before we make any further assumptions. 
For now, all I can perhaps assume is that maybe, just maybe, the driver of this GranTurismo took the words of Jeremy Clarkson a bit too literally, as seen from Clarkson's review of the Pagani Zonda R....
So if this already isn't enough of a reminder, drive carefully, people, especially in wet weather. More of it is forecasted for the coming weeks so it would be wise to play it safe. And should you need advice for how to drive safe in the rain, feel free to read these articles here, here and here, as written by my colleagues.