Sensitive cyclist does not like to be honked at
TL;DR – Cyclist flies into a rage and blocks traffic when cam car driver honks at him. Yet another road rage incident by a cyclist who thinks he owns the road.
I'm all for keeping fit and healthy. If people think cycling does that for them, I'm no one to judge. But, when it starts to endanger the lives of others, we need to draw some lines.
Let's take today's video for example
We have a cyclist who raises his right arm, indicating he would like to turn right.
Under the rules and guidelines for cyclists, there's no wrong there - 100 points for you sir.
But why did he not check for oncoming traffic from behind?
Putting up your hand does not automatically give a cyclist the right-of-way to 'suka suka' change lane and endanger other road users. You still need to check your blind spot for cars, yes?
Even when you're driving a car or riding a motorcycle, you still need to check your blind spot for vehicles if you signal left or right to make a lane change or a turn.
And why so angry?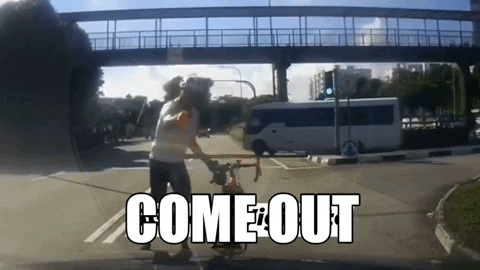 The video has no audio, but from the body language of the cyclist, it's pretty apparent that the cam car driver honked at the cyclist.
The cyclist proceeds to get off his bike, obstructs the cam car and challenges the driver to come out to confront him.
Comments

This cyclist deserves an A for effort at following the rules and regulations but going through the motions without situational awareness is a fail.
Till the next one!