Looks like the someone got a real kick from stealing a carpark lot. Or, is there another story?
TL;DR – Nissan Kicks e-POWER seemingly 'steals' a carpark lot from another car and crashes head first into the MSCP railings. Cam car who witnessed and submitted the video claims that it was an accident.
A 20-second video of a Nissan Kicks e-POWER stealing a carpark lot at a multi-story carpark has been circulating around social media and WhatsApp chats today.
Here's the footage
What it looks like
At first glance, it clearly looks like the Kicks had every intention to steal the carpark lot and received instant karma for being selfish and inconsiderate.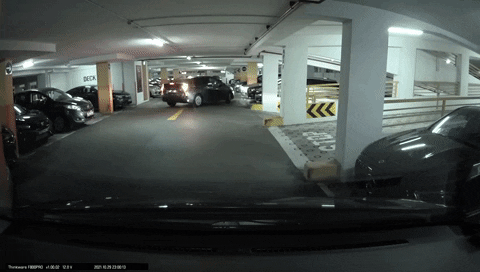 Damage report
1.       The Kicks hit the car that was reversing into the empty carpark lot
2.       It also hit the MSCP railings really hard and caused cracks to appear on the walls
3.       The force of impact was also strong enough to deploy all the air bags in the Kicks
Video witness speaks up
So, this found its way into one of my WhatsApp group chats.
I guess we need to do some research on the Nissan Kicks to verify.
Nissan Kicks e-POWER
Screenshot by automotiveworld.com 
I think the driver begs to differ on the whole 'enjoyable and engaging' aspect of the Kicks' 'One-Pedal operation'.
There's also a brake pedal for emergencies by the way.
Image by carbuyer.com.sg
Online Chatter
I'm going to include more comments this time round because a lot of people have tons of things to say.
Exciting things happening on a Saturday.
-----------------------
Thinking of selling your car? sgCarMart Quotz guarantees the highest selling price for your car. We'll even give you $100 cash if you find a better offer elsewhere! Get a free quote to find out how much your car is worth today!
1