An accident between a Honda Civic, BMW 520i and a Toyota Corolla makes all three cars perfectly aligned with one another
This has to be one of the most unique, one-of-a-kind accident you would have ever seen before.
The aftermath of the accident might even be meme-worthy.
Watch it here:
What Happened?
The accident occurred at around 7am, at Hougang Avenue 1. 
As the morning traffic started forming at a red light, a BMW 520i driver decided to perform an abrupt lane change from lane 1 (go straight/turn right lane) to lane 2 (go straight-only lane).
Despite an oncoming Toyota Corolla approaching, the BMW driver insisted on squeezing through and changing lanes.
Unfortunately, the Toyota Corolla driver was either not paying attention, not practising defensive driving, or simply not fully awake.
And needless to say, the BMW and Toyota collided with each other. 
The BMW driver decided to react by swerving to the right for some reason.
And as a result, the BMW grazed the side of a Honda Civic that was in front of it.
The back-to-back accidents left all 3 cars perfectly aligned in a straight line, entirely blocking off other motorists from passing through.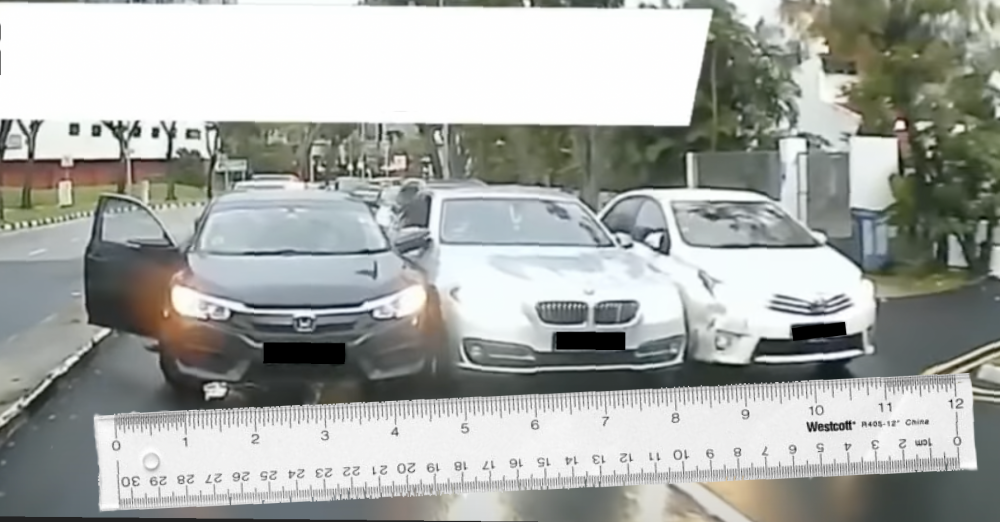 The jam must have been so bad at this junction, considering the morning jam + the jam caused by this accident.
And also, can I just point out how bad I feel for the Honda Civic driver, who was patiently waiting at the traffic light but got implicated in this accident?
Netizens' Comments

I would love to watch him crawl out from the boot!
I can totally imagine this😆
Helicopter helicopter~
=========
Be the first to get the latest road/ COE news, and get first dibs on exclusive promos and giveaways in our Telegram SGCM Community. Join us today!
1