Supposed 'LTA Officer' dangerously cuts cam bike off; forces him to stop for photo taking
Hello fellow drivers. Here's an interesting one for you today.

Watch an uncle who acts like an LTA enforcement officer unlawfully stop a motorist in the video below.
So what on earth happened?
First, the 'LTA Officer' cuts the cam bike off dangerously on the road and then proceeds to overtake him while travelling along Toa Payoh Lor 2 at the entrance into PIE. He then almost swerved into the cam bike, nearly resulting in an accident. The cam bike then decided to horn at the officer, to which he responded by turning on his blinker light.

The cam bike then decides to pull over after he claimed that the 'officer' had started shouting at him. That was when he attempted to confront the man following him. The 'officer' then started taking pictures of him at 1:19 of the video as well as threatening to write him up without coming up with a legitimate law that the cam bike had broken.
On top of that, he also mentioned that he would "charge you double if you touch me", given that he is a uniformed personnel. After repeated attempts at trying to diffuse the situation to no avail, the driver of the cam bike decided to leave. 
Nonetheless, the 'officer' persisted and even followed the cam bike driver. 
The cam bike driver then felt like something was off and decided to take his details before leaving immediately. 
If you did not already know, LTA enforcement officers would have vehicles with LTA in their license plates. Likewise, Traffic Police would have TP in their license plates.

What's FBL?

A nobody. That's what.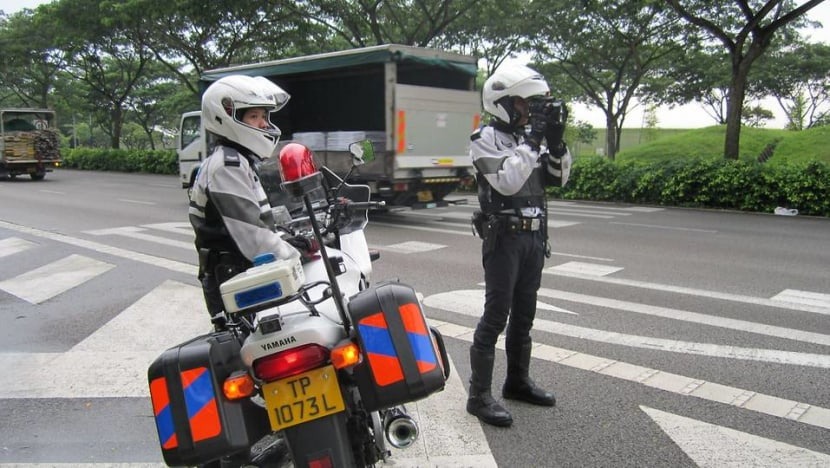 Above is what a bike belonging to the Traffic Police is supposed to look like. 
What on earth is he doing trying to act like he's traffic police? Netizen Comments 
Netizens give their take on the situation witnessed as above. 

People who abuse their authority should definitely get reported. 
Getting sacked does seem to be an appropriate punishment! 
This so-called 'officer' definitely needs to be written up. There's no way he should be able to get away scot-free with this kind of behaviour.
 
=========
Be the first to get the latest road/ COE news, and get first dibs on exclusive promos and giveaways in our Telegram SGCM Community. Join us today!