Cam car driver becomes 'buey song' with a cyclist for safely guiding his family through a zebra-crossing
It doesn't matter if you are a motorist, a pedestrian or a cyclist - road safety is of paramount importance and should be instilled in us from a young age. 
NGL, I felt very heartened after witnessing what this father did for his family to ensure their safety:
 What Happened?
A father stopped his bicycle to "block" oncoming traffic so that his family could cross the zebra crossing safely. 
However, the cam car driver he blocked wasn't too happy with his thoughtful act towards his family and decided to upload this video to social media and publicise his act. 
A Responsible Parent
That's what I think.
I would say it is entirely fair for the father to do what he did to safeguard his family's safety. 
Furthermore, that's a zebra-crossing.
So regardless, any car would have to stop for the family to cross the zebra crossing. 
However, some netizens are saying that the cyclist ought to have thanked the cam car driver for making him wait at the zebra-crossing: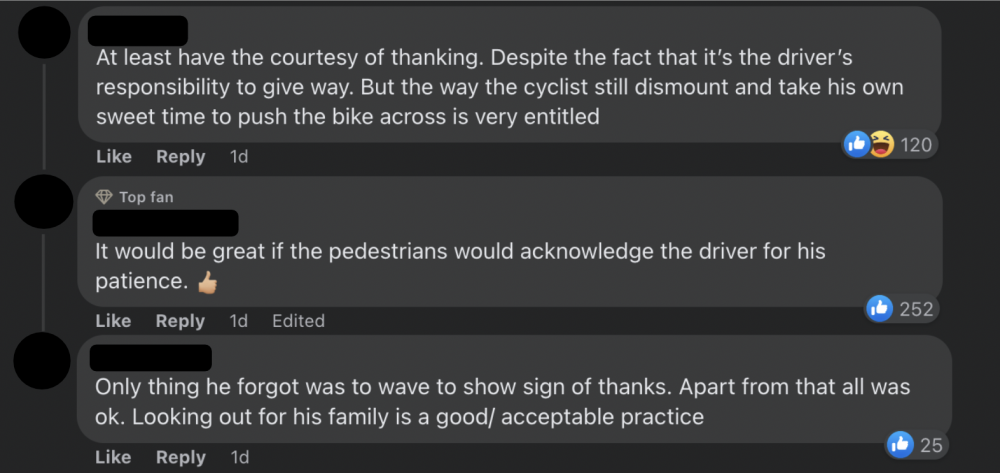 Here's my take - whether or not, the father decides to gesture a "thank you" to the cam car driver is his prerogative.
Netizens' Comments
Are we reading too much into it?😩
Nuff said.

👏👏👏
=========
Be the first to get the latest road/ COE news, and get first dibs on exclusive promos and giveaways in our Telegram SGCM Community. Join us today!