Illegally driven VW Golf R (with multiple fines) overtakes from road shoulder and evades parking by destroying a gantry arm
TL;DR – A Volkswagen Golf R with expired road tax gets caught on camera speeding along the SLE and overtaking a vehicle by using the road shoulder of the expressway and evading parking fees by forcibly pushing the gantry arm up.
What. The. Shit.
That's still my reaction after watching the video multiple times.
Watch this 76-second shocker for yourself to see why.
What happened
There are two incidents captured on video of the same culprit.
The first incident sees a Volkswagen Golf R speeding along an expressway (caption says it's the SLE).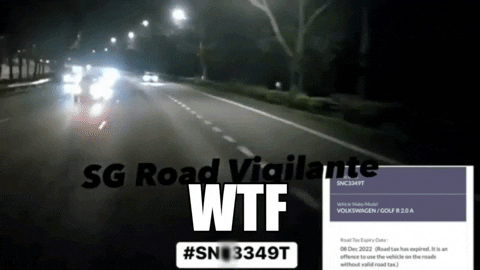 Besides its insane speed, it's also overtaking the cam car by using the road shoulder of the expressway!
The second incident is video footage of the same Volkswagen Golf R leaving a carpark in a very unorthodox manner.
The passenger of the Golf pushes the gantry arm up and the Golf leaves the car park without having to pay for parking.
But that's not all
Either the person who uploaded the video or SGRV went to CSI this bugger and found out a couple of things.
It's driving illegally.
The car has multiple parking fines by HDB that have been unpaid.
These fines all occur in one month (just FYI).
The comments section for this is going to be wild. Let's have a look!
Online Chatter
========= 
Be the first to get the latest road/ COE news and get first dibs on exclusive promos and giveaways in our Telegram SGCM Community. Join us today! 
1