A massive 14-vehicle collision along Bartley viaduct serves as a reminder of the dangers of tailgating

TL;DR - A horrifying accident involving 14 cars occurred along Bartley Viaduct just two days after Christmas. 
If you happened to drive along the Bartley Viaduct on 27th Dec, you would have witnessed a rare (not to mention expensive for those involved) occurrence.  
It's not every day you get to see 14 cars collided into one another in a straight line. 
There's even a bird's eye view of the incident!
Watch this 56-second video to see how it looks.
What happened?
A chain reaction collision involving 14 cars occurred, leading to a long pile-up on the rightmost lane of Bartley Viaduct.
We spotted a few familiar models in the carnage. 
Honda Fit
Honda Vezel
Toyota Prius Alpha
Toyota Altis
Toyota Vios
All the cars seemed to have suffered some form of structural damage, especially the ones sandwiched in the middle.
For all drivers who do their daily commute via the Bartley Viaduct, take note of this stretch of road. There are no speed cameras there and a perfect spot for cars to speed and/or tailgate.
So, who pays for the damages incurred?
The rule of thumb is that the first driver who caused the first collision that led to all subsequent crashes is the party at fault.
While tailgating might not be an illegal offence in Singapore, insurers might not look lightly at your claims if you met an accident due to tailgating a vehicle ahead of you. 

Source: Budget Direct Singapore
To identify the liable party in a chain reaction accident, it is important to reconstruct how the accident happened - Whoever's actions caused the initial accident will be the responsible driver. There are even some cases where multiple drivers may be responsible.
Which is why presenting quality footage to your insurers could potentially absolve you of any blame. Check out Sgcarmart's best car cameras for 2023!
Online Hoo-ha: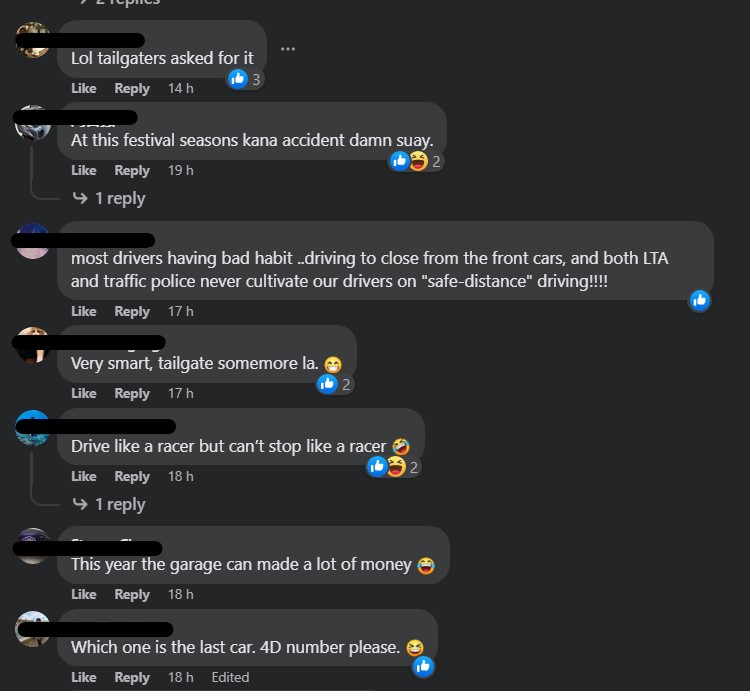 Good luck to the last of the 14 cars. 
For any inexperienced drivers, you should have learnt this during your Basic Theory. A motorist should stay at least 2 car lengths or 2 seconds behind any vehicle in front of them.
========= 
Be the first to get the latest road/ COE news and get first dibs on exclusive promos and giveaways in our Telegram SGCM Community. Join us today!
1