Cheapskate BMW driver pumps the forbidden fuel in Malaysia and gets caught

TL;DR - SG-registered BMW got called out for pumping cheap RON95 petrol in JB reserved for MY-registered vehicles only. 
We all love a good cheap thrill.
But not as much as this BMW driver. 
Watch this 75-second video of him not giving a hoot even after being called out by the cam-car. 
What happened? 
A SG-registered BMW driver was seen pumping RON95 petrol in Malaysia, when it is strictly only meant for MY-registered vehicles.
The way he strategically used his body to cover the petrol nozzle and bike rack to cover his car plate while fueling his BMW with the forbidden petrol, goes to show the number of times he has done this prior. 
When confronted by the cam-car, he still continued - clearly unbothered, unfazed, thriving~  

Online Comments: 
Reactions to the BMW driver being called out were pretty mixed.
Many felt that this practice was very exploitative, giving Singaporeans a bad name.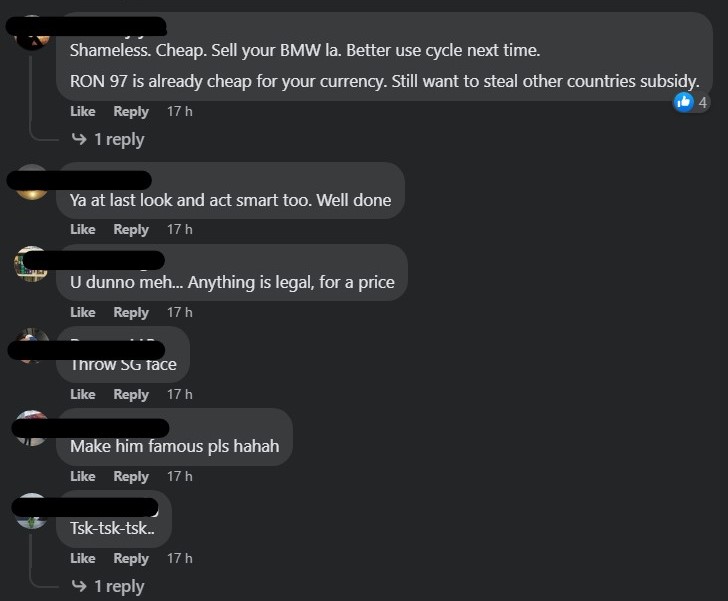 On the other hand, some argued that Singaporeans who pump cheap petrol in Malaysia still do stimulate the economy in other ways, such as shopping/dining there. 

Moral of the Story...
Please obey the rules of the country you're in to avoid being an Internet meme. 
========= 
Be the first to get the latest road/ COE news and get first dibs on exclusive promos and giveaways in our Telegram SGCM Community. Join us today!
1

1