Punch also cannot wake up: Driver 'dozes off' on the road

TL;DR - A passerby punched and slapped a driver who presumably fell asleep behind the wheel. 
This is what happens when the Z monsters creep up on you while you're on the road. 
Watch this 54-second video of a lady who knocked out in her car and got whacked awake by a passerby. 
So what happened?
A female driver was found sleeping in her Honda Vezel at the roadside in Hougang. A male passerby then came over to her car and attempted to wake her up, but to no avail.
He continued by punching and slapping her arm, before she woke up.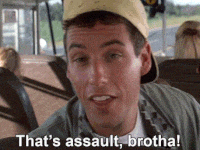 Perhaps he was just afraid that she might have passed out, or passed away…? 
Online Chatter: 
The netizens were clearly not having it, saying that the man should not have used violence on her, especially so when she's a female.
Takeaway
Regardless of how comfy your car seat may be, please don't KO on the road! It is extremely dangerous to sleep in the car, especially with the A/C on. 
========= 
Be the first to get the latest road/ COE news and get first dibs on exclusive promos and giveaways in our Telegram SGCM Community. Join us today!
1