Cam car driver in distress after rear ending a Mini Cooper along Sembawang Road

TL;DR - Cam car rear ended Mini Cooper along Sembawang Road and seeks advice on what s/he should do next. 
What to do if you hit a car from behind in Singapore?
Watch this 28-second clip of the cam car kissing the back of the Mini Cooper. 
What happened? 
The cam car was traveling a safe distance behind the Mini when the Mini decided to filter lane and brake simultaneously. 
This caused the cam car to bang into it as s/he did not manage to react and e-brake fast enough. 
0% defensive driving skills…
100% zoning out… 
Just a random question I had in mind while watching the video: Is it true that all rear end collisions are caused by the vehicle behind? 
Cautionary Reminder
It is important to keep a safe distance between your vehicle and other vehicles or non-motorists on the road. If you drive a car in Singapore, a following-distance of at least one car length for every 16 km/h of your speed is advised, so that you can come to a stop within a safe distance of the car in front of you. 
Online Chatter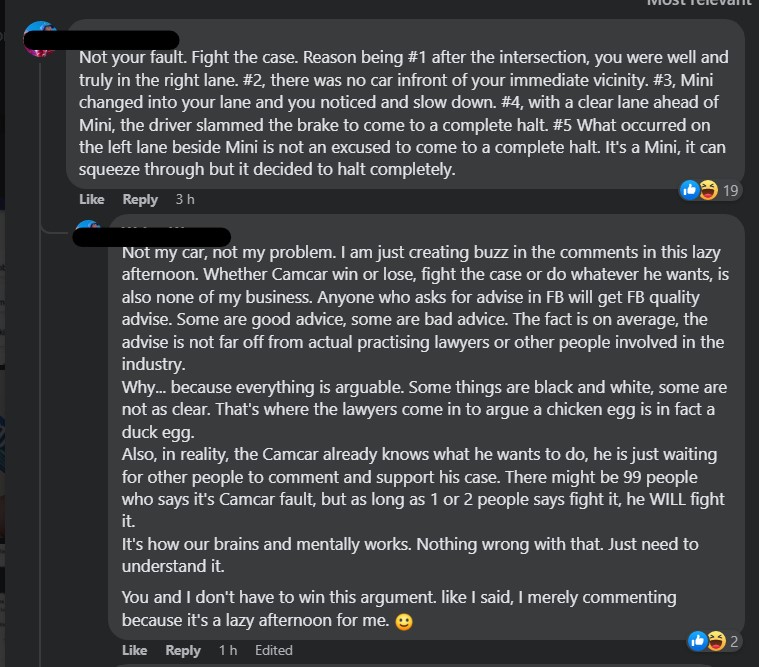 There seems to be a mini (geddit?) debate in the comments section.
There are people who are siding the cam car, sharing their two cents on this situation.
But of course, the majority has come to a consensus that it is the cam car's fault. 
Takeaway
To practice road safety in Singapore, you not only need to know the rules set out for you, but you need to be vigilant of all road users, regardless of the type of vehicle. Always keep a safe distance, so that you are not forced to brake abruptly. 
So who do you think is at fault in this rear-end collision? You be the judge in the comments box below. 
========= 
Be the first to get the latest road/ COE news and get first dibs on exclusive promos and giveaways in our Telegram SGCM Community. Join us today!