Cyclist almost got run over by cam car after crashing into another cyclist at Beach Road

TL;DR - Errant cyclist tailgating another cyclist falls after accidental collision. This epic fall shows exactly why cyclists and motorists do not get along. 
Humpty Dumpty moment. 
Watch this 30-second video to see how the cyclist collided into another fellow cyclist along Beach Road. 
What happened? 
A group of cyclists were cycling along Beach Road when one of them came into collision with the cyclist in front, resulting in him falling over on the road. 
As seen in the clip, the cyclist did not take any safety precautions as well, such as by wearing a helmet, nor does he have any front/rear lights on his bicycle. 
This lack of safety measures makes the cyclist a road hazard, putting not just his life at risk, but also for other motorists and road users.  
Online Chatter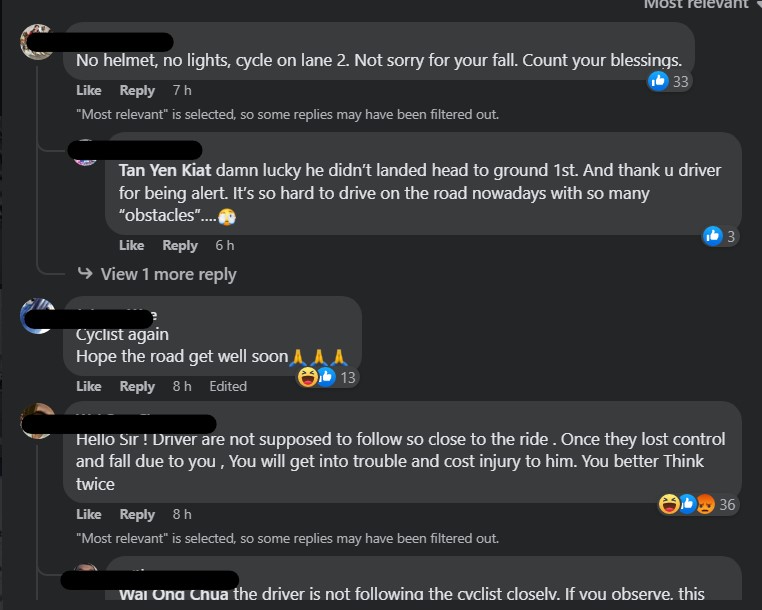 This is why cyclists are better off on walkways.  
This is also another opportunity for motorists to call cyclists on the road, road pests.
Takeaway 
To ensure road safety for themselves and other road users, cyclists are advised to wear the appropriate riding gears, enhance visibility by installing bicycle lights, and adopt safe cycling behaviors and habits, such as keeping a safe distance and riding in an orderly manner.
========= 
Be the first to get the latest road/ COE news and get first dibs on exclusive promos and giveaways in our Telegram SGCM Community. Join us today!
1