Fast & Furious gone horribly wrong for this Honda Jazz, causing crazy jam along the Pan-Island Expressway

TL;DR - P-plate Honda Jazz collided with a lorry and smashed into the road divider, resulting in a massive traffic jam as lanes were blocked. 
Watch this epic 33-second clip of the Jazz getting rekt by the lorry before going head in on the road divider. 
What happened? 
The ballsy P-plate Jazz driver allegedly sped and crashed into a lorry, cannon into the road divider before overturning. 
Turns out the car is also rented from Tribecar, as pointed out by netizens who spotted the decal. 
Mad accident that definitely could have been avoided if the driver was more cautious. Especially so when she is still under probation. 
The accident not only caused a crazy jam along the Pan-Island Expressway on a Saturday afternoon, five of them were also conveyed to the hospital. 
Aiyo, don't need to action lah… Anyway the car no turbo! 
Also, side note, can we talk about how impressive the ComfortDelGro taxi was, to be able to shun the Jazz so swiftly while still staying in lane after. 
Fast reflexes man, thumbs up for you!
Online Chatter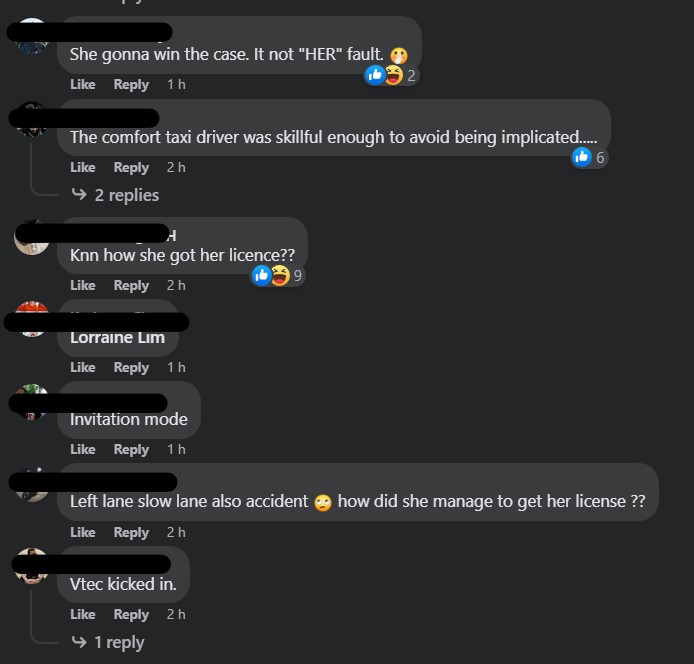 Time to drink kopi with the police liao… She was arrested for careless driving, causing hurt to others. 
Oh well, no thanks to the driver for carrying on the stereotype that female drivers are bad drivers. 
========= 
Be the first to get the latest road/ COE news and get first dibs on exclusive promos and giveaways in our Telegram SGCM Community. Join us today!
1