E-bike YP tries to assert dominance after receiving warning honk for filtering to center lane
TL;DR - YP thinks he's Him, scolds driver after giving honk for dangerous riding. (To be "Him" is to be a dominant figure, a blooming flower in a garden full of weeds. It's a feeling of euphoric confidence, the type of disposition that only occurs when you leave your opposition cowering in fear.)(The Sporting News)
Before this article fully begins, please picture in your head the true blue Singaporean YP.  With dyed brown hair, popular sneakers, swearing in Chinese dialect, and out and about in the wee hours of the morning. 
You now have this story's main character. 
What happened? 
Around 5.30 in the morning along Old Airport Road, a driver was behind an ebike driven by a young man who looks like he'll ask you to sponsor cigarettes and promise to pay you back (he won't). 
The ebike was also being driven dangerously, weaving heavily between lanes at unsafe speeds.
The driver gave the e-bike rider a short honk as a warning. But when the two vehicles came to a stop at a traffic light, the rider got off and came to the car to scold the driver. 
I would love to give you a play by play of each word they said but
1) I don't understand Chinese or its dialects particularly well, and
2) The audio was distorted heavily so everything sounded like radio static even though I'm wearing headphones. 
After about 20 seconds of distortion, both driver and rider went their separate ways. For the best really.
Sigh… (looks at comments)
Some people suggested ways to get back at the e-biker by filing police report or running over the bike when they got off. I quite like the idea of the second one.  
Others just made fun of the wannabe gangster. I mean, why wouldn't they?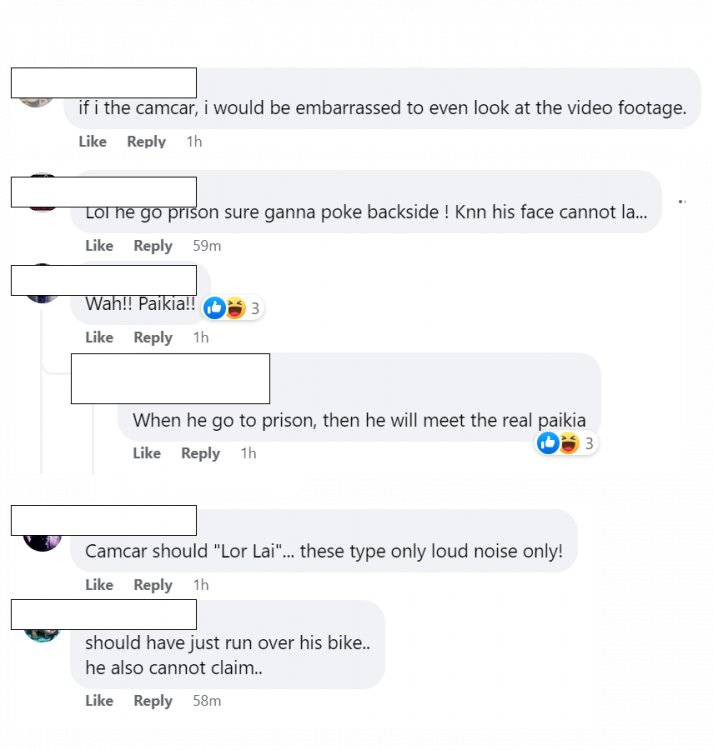 ========= 
Be the first to get the latest road/ COE news and get first dibs on exclusive promos and giveaways in our Telegram SGCM Community. Join us today!