Cam car catches police car violating traffic laws
TL;DR- Police car made illegal U-turn, facebook comments are wrong
The comments section are once again alight with intelligent debate (swearing and accusations) and civilised discourse (putting down others and placing yourself as the superior person). Just another day on Facebook.
What happened?
On 23 March, 9,36p.m, a cam car caught a police car making an illegal U-turn at Braddell Flyover.
Cue shocked gasps. You can even hear the cam car driver say "What the…" when the police car cut him off in the footage. 
However, Facebook says otherwise, with many comments defending the police car and saying it is the cam car's fault. 
But are they actually right? 
The confusing road of Braddell Flyover
This is the road that the cam car and police car was on in the video. As we can see, the road signs both have arrows indicating that drivers on this lane need to go right. 
However, why is this so? Seems redundant to have two lanes to go in the same direction. Besides this, the two cars in front of the cam and police car went in the same direction, and not the one indicated on the road, i.e straight. So are they wrong as well? 
They aren't. The police car really is in the wrong. This is because all parties are really turning right, but to a different degree of right. Here's a diagram from another Facebook user to explain, with arrows indicating what car was going where.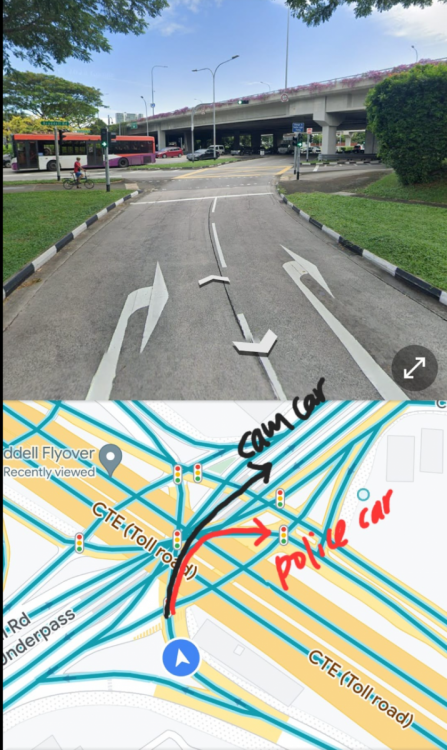 The police car was actually making a U-turn, but was in the wrong lane to do so. Furthermore, there was no U-turn sign visible. The cam car was not in the wrong as they would be allowed to drive "straight", and the police car should have been in the cam car's lane too in order to execute that turn LEGALLY. 
In conclusion, police car confirm wrong. 
Writer's thoughts: I think this might be my longest post so far so please share. 
========= 
Be the first to get the latest road/ COE news and get first dibs on exclusive promos and giveaways in our Telegram SGCM Community. Join us today!