Darth Vader drives a lorry and tells taxi driver to have an intimate relationship with his mother
Darth Vader, formerly known as Jedi Master Anakin Skywalker, student of Obi-Wan Kenobi and master to Ahsoka Tano. Now deceased following after sacrificing himself to save his son Luke Skywalker from the Emperor and bringing balance to the Force. 
But no! Darth Vader was seen in Bukit Batok… Driving a lorry? 
Watch the video to see what I'm talking about.
What happened?
Darth Vader (a Mitsubishi lorry driver) was seen in Bukit Batok Block 435 on 29 April around 11pm putting on an entertaining show while trying to reverse.
However, a taxi was blocking the Sith lord's way, inciting an extremely loud horn that was clearly audible many metres above the event taking place.
Instead of a Force choke, Darth Vader begins to reverse. This causes The Imperial March to start blaring from the loudspeakers as he backs out of the road. 
As Lord Vader makes steady progress, his voice emanated over the soundtrack and began swearing at the driver of the blue taxi. Only instead of James Earl Jones's voice he sounded more like a Chinese uncle, while telling the taxi driver to do the dirty with his mother. 
The person recording is at least 7 storeys high and all audio is clear. How loud were these speakers sia. 
Online chatter
If this was a publicity stunt by whatever company the driver is under, props to the marketing team. 
Many people had something to laugh about, such as Vader sounding Chinese, swearing and of course, "your mother".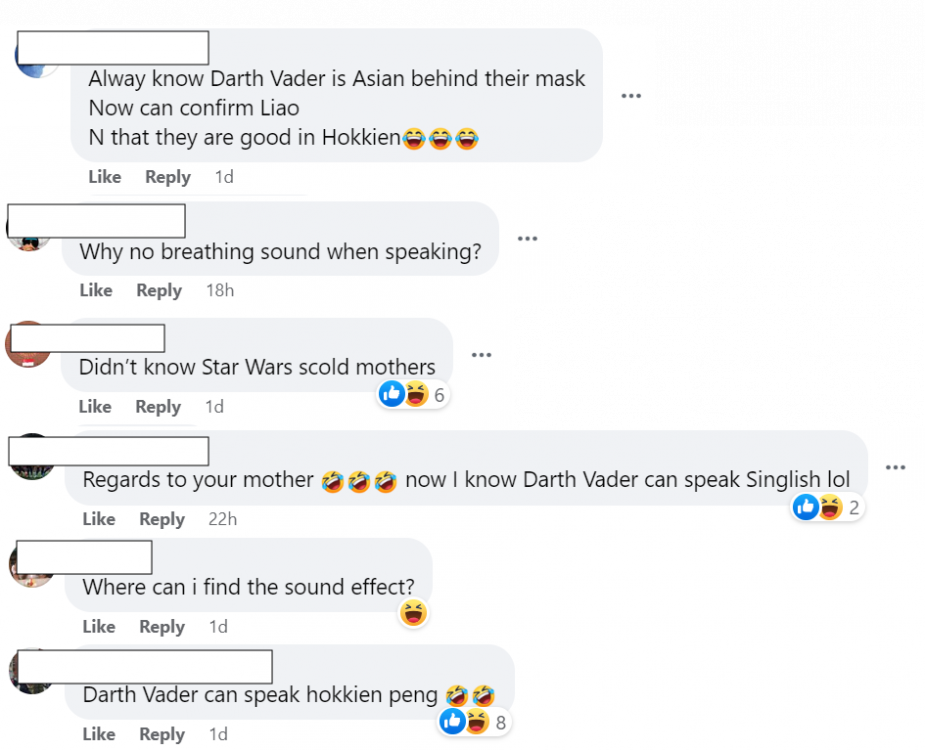 Others had concerns about how such modifications were approved and allowed to be installed on the lorry.
========= 
Be the first to get the latest road/ COE news and get first dibs on exclusive promos and giveaways in our Telegram SGCM Community. Join us today!