Runner calmly carries on after seeing motorcyclist and cyclist crash into each other
We can all learn from this runner on how to be unbothered by the chaos and negativity in life, to carry on and remain focused in the midst of uncertainty and adversity.
I make it sound like a car almost crashed into her but hey, there was certainly a crash.
What happened? 
On 2nd May 2023 at Woodlands Ring Road, a cyclist crashed into a motorcyclist turning right to enter a car park.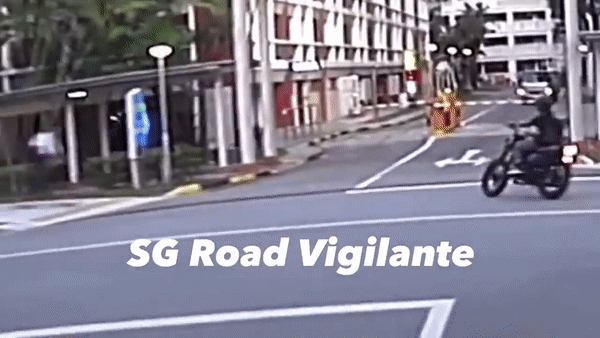 Bro was zooming. If he did brake he might want to check the brakes work properly. There was no sign of jerking and it was a smooth ride to hit the motorcyclist.
This led to the cyclist coming off his bike and tumbling onto the motorcyclist, who was knocked down in turn. 
Both parties were able to get up, although there is no audio to determine what words they exchanged afterwards. 
However, the star of the show to me was the runner when all this unfolded just to her right.
The camera footage is too blurry to tell if she turned her head or not but I assume a bike and motorcycle knocking into each other would make a fair bit of noise. 
However, she remained unfazed, and continued running at a steady rhythm. If she was wearing an earpiece I want to know what model because the noise cancelling on that must be insane. 
Online chatter
People noted the runner continuing on her way, with some wondering if she knew what was going on at all.
Others blamed the cyclist for not stopping and allowing the motorcycle to enter the carpark. 
========= 
Be the first to get the latest road/ COE news and get first dibs on exclusive promos and giveaways in our Telegram SGCM Community. Join us today!