Uncle comes out unscathed after multi car crash in Malaysia
This uncle used multiple years worth of luck to come out of this alive, let alone (seemingly) uninjured. Watch the video to see what I'm talking about.. 
What happened?
On 12 March 2023 (yeah, i don't know why we're only seeing this now), a bus driver in Malaysia plowed into a bunch of vehicles on a crowded road.

In the footage taken from a camcar that was also in the accident, the bus clearly took a long time to stop, as there was the sound of braking before the bus came into view.
When the bus did come into view, we can see multiple vehicles were being pushed by the bus. This made a sort of battering ram that hit other cars on the road as the bus struggled to reach a halt.
The aftermath was an absolutely crushed blue car, a few mangled sedans and a Toyota Estima with half its front bumper detached. There were also a few men yelling at the bus driver while the footage showed the wreckage. 
Speaking of the crushed blue car, the video shows an old uncle helped up by the authorities and placed on a stretcher. The uncle was apparently inside the blue car, though it is unknown if he was the only person.  How they pulled him out of there I have no idea. Furthermore, his clothes look pristine. 
It is unknown what led to the accident, whether brake failure or neglect on the bus driver's part. 
Online chatter
People speculated on how the uncle survived the accident considering the state of the car, believing it was good karma repaid for this incident or divine intervention.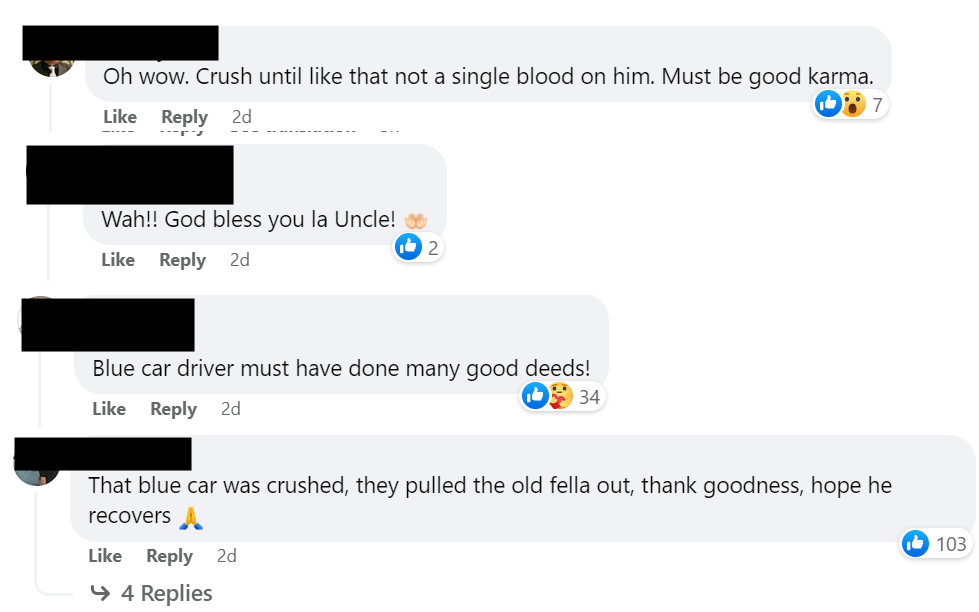 ========= 
Be the first to get the latest road/ COE news and get first dibs on exclusive promos and giveaways in our Telegram SGCM Community. Join us today!
1