VW driver rages at cam car for cutting him off, despite cutting others off himself
This one needs to learn what karma is. Watch the video to see why!
What happened?
A Volkswagen Touran driver was caught on camera having a fit of road rage after a camcar tried to move in front of him after the other lane was closed.
The footage shows the camcar accelerating in order to get past him as the other lane was undergoing construction, only for the manoeuvre to be unsuccessful.
However, the Volkswagen suddenly braked, almost causing an accident. The driver quickly ran out of the car. 
The video then switches to another camera to show the driver vigorously shaking the door, slamming it repeatedly before walking back to his car.
A CERTIS officer was also present, though there's nothing to show if he was involved or not in defusing the situation.
Funnily enough, the VW driver was caught cutting others off as well in a separate incident, and this time a police vehicle no less! Not sure what turn signal uses the taillights of both sides. I think the officer would be curious too, assuming making such a sudden turn is acceptable in the first place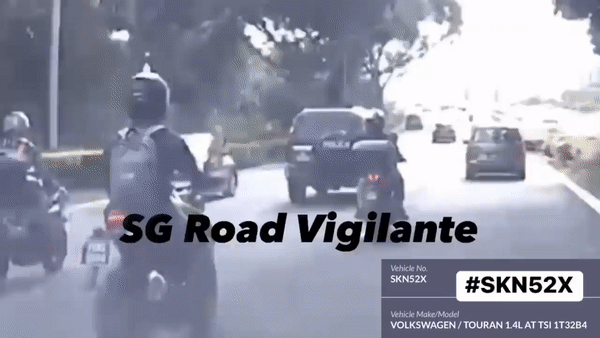 Online chatter
Many said "GG" for cutting off the police vehicle in the first incident.
Others (rightfully) criticised the driver for his unacceptable and hypocritical behaviour, asking authorities to punish him.
========= 
Be the first to get the latest road/ COE news and get first dibs on exclusive promos and giveaways in our Telegram SGCM Community. Join us today!