"Champion auntie" manages to reserve parking lot by standing with no car
You know what? It fits how we use other expensive things like phones, wallets etc to chope our tables and seats. This is just the natural evolution.
What happened?
An auntie in Star Vista parking lot yesterday pulled off a 1 v 5 clutch against other drivers to chope a parking lot for a Nissan Sylphy, of which she was the passenger of.
According to the person who submitted the video, they had been waiting in the lot for around 20-30 min before finally seeing a car driving out of the lot. They were excited to finally be able to park until they saw the auntie "happily walking and standing in the lot".
This meme came to mind:
They thought the auntie was simply going to stand around for a bit until they tried to reverse and found the auntie still not moving. At this point, "I know this auntie want to be famous alr."
Asking the auntie to move nicely (supposedly), she insisted that her car was coming and that she got here first. I think she also said "what you want me to do?", but the background noise is too loud to hear clearly so hear for yourselves.
The recorder found that another driver was leaving at this time and chose to relent. 
Online chatter
There's a common adjective used to describe this kind of behaviour. Some also criticised the act of chopeing parking lots.
Others gave some… interesting solutions that they would have done had they been there.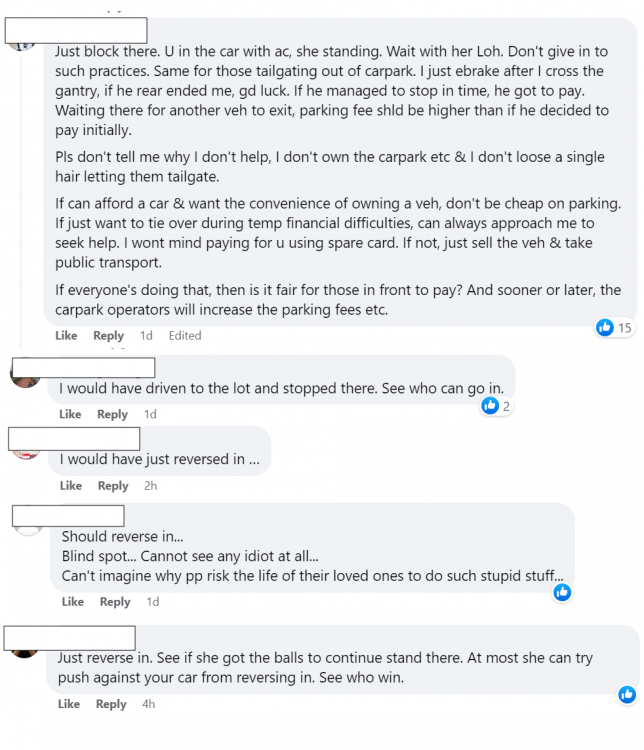 ========= 
Be the first to get the latest road/ COE news and get first dibs on exclusive promos and giveaways in our Telegram SGCM Community. Join us today!