Breaking and... charging? Tesla Model Y owner goes to a condo to recharge for free
Can afford Tesla, cannot afford to charge? Just go to your nearest condo I guess.

What happened?

A Tesla Model Y at Sol Acres condominium was reported to have broke the lock to a wall plug to charge using the condo's electricity, despite not being a resident vehicle. 
Pictures in the Facebook post show that the Tesla was using a wall plug in order to charge the car. The plug was apparently locked and subsequently broken, though no signs of damage were shown in the photo.
According to a forum post on Tesla Motors Club, it might take 30-40 hours to charge the car up from empty using a 13A wall plug like in the picture.


So the owner will have to leave the car there for 30-40 hours, by which time maybe security will get wise and put clamps on the car. If that happens,  they would need to pay to remove the wheel clamp so the whole ordeal would have cost about the same plus the additional wasted time and embarassment.
Online chatter
Many presented very simple solutions to this problem.
Many also ridiculed the Tesla owner for buying such a car but being unable to charge it.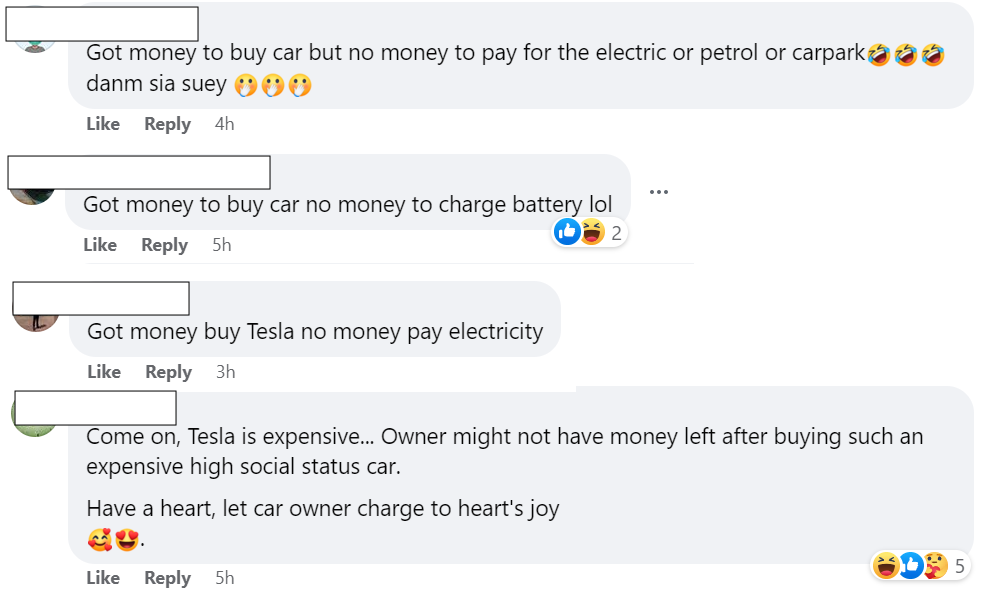 ========= 
Be the first to get the latest road/ COE news and get first dibs on exclusive promos and giveaways in our Telegram SGCM Community. Join us today!