EV your business with Hong Seh Evolution
Entry posted by pagani9 ·
646 views
Opting for an EV for commercial use is not only environmentally friendly, but cost effective as well - start your journey with Hong Seh Evolution.
It wasn't too long ago when Electric Vehicles (EV) were still fresh on the market - back then range wasn't confidence inspiring, charging facilities aren't as accessible and these cars really don't make much sense.
These days, EV chargers can be found all over Singapore, in petrol kiosks, HDB carparks, shopping malls and offices. Most EVs will also do well over 200km in a single charge, and can be charged up pretty quickly with the appropriate chargers. What this means, is that EVs make a lot more sense and are much easier to live with, and as a result, business owners have much to gain from switching over to EVs for their fleets.
Opting for an EV benefits more than just the environment
EVs are known to be good for the environment as they do not have an internal combustion engine that emits noxious fumes through a tailpipe. But the benefits aren't simply limited to saving the earth - the same exhaust fumes are uncomfortable and unhealthy for humans as well.
This is especially apparent when it comes to commercial vehicles, where you'll often leave the engine running as you load up cargoes to be more efficient on the go. With an EV, you won't have to worry about any harmful and unpleasant exhaust fumes. You can just leave the vehicle running with air-con on to keep the cabin cool, you can even take a short break in comfort in the carpark if you want.
And they aren't only clean and green. Powered by electric motors, EVs are able to produce plenty of torque and will do so instantly - this is especially handy for the type of use that commercial vehicles sees.
EVs will help your business to save on costs
No matter what your company does, cost savings will surely be desirable, and EVs is one way to achieve it. Unlike cars powered by conventional engines, EVs have lesser wear and tear components - you don't have to worry about stuff like air filters, spark plugs or engine oil, and with regenerative braking, your brake pads will also last longer! This results in a simpler maintenance routine that will incur lower costs in the long run.
However, the largest cost savings that EVs offer comes from the lower cost of charging when compared to the cost of petrol or diesel. Although EVs can cost a little more than its internal combustion engine counterparts, you will be able to recoup your investment the more you utilise an EV - perfect in commercial use where the car will see plenty of mileage.
If you can install chargers in your own facility, you will be able to keep your EVs charged and ready at an even more cost-effective rate.
In line with the government's direction to go green, the Commercial Vehicle Emissions Scheme (CVES) has been introduced recently to promote the adoption of eco-friendly commercial vehicles. As such, each vehicle that complies with the requirements of CVES band A will be entitled to an incentive of $15,000, further sweetening the switch to EVs for commercial use.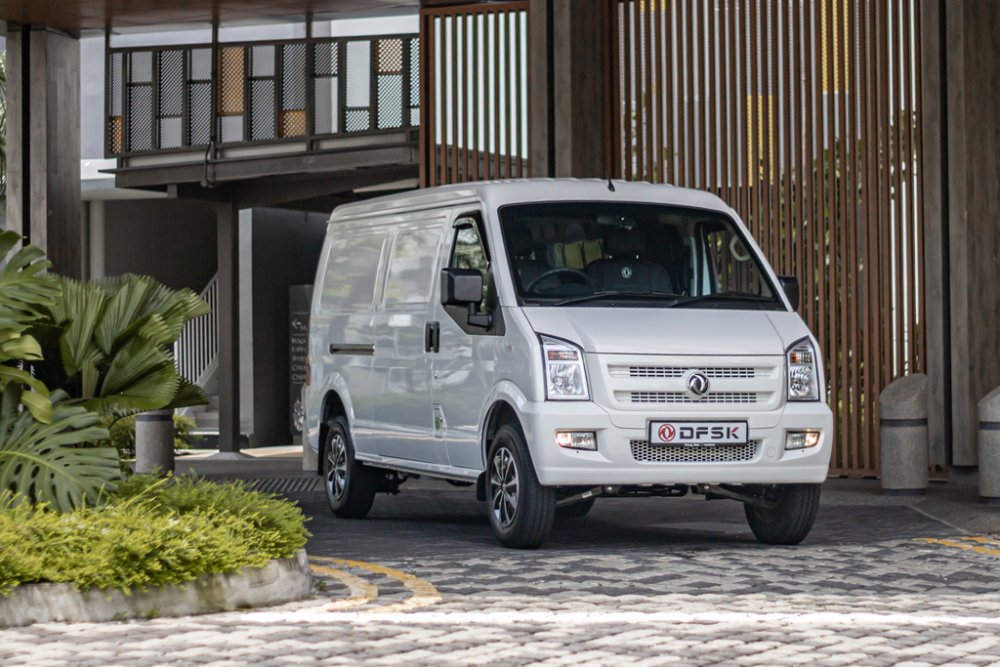 Modernise your fleet with DFSK
Don't wait! Start your cost-saving journey now by switching your fleet to the EVs now. Hong Seh Evolution Pte Ltd is committed to provide you with innovative EVs from DFSK to modernise your business for maximal cost savings and efficiency.
With the DFSK EC35 van, EC31 lorry and EC31 refrigerated trucks, to choose from, you can be sure to find something that fits your company's needs. These EVs are all built with powerful electric motors and durable chassis to withstand the demanding conditions that commercial vehicles see on day-to-day basis.
The EC31 lorry can be configured to suit different needs - the lorry bed can be boxed up, fitted with a tailgate, or with a canopy. If your business requires a van, there's the EC35, and for those in the cold-chain business, the EC31 refrigerated trucks will be just what you want.
Go green with Hong Seh Evolution
Hong Seh has been in the car industry for over 50 years, offering value-added services to support its customer base. Not only does it offer these highly dependable commercial electric vehicles from DFSK, but it does so at a reasonable price, along with high loan amounts available.
Additionally, it also offers 24 hours breakdown service and has a team of IMI (institute of Motor Industry - UK) certified technicians to support your EV journey. Therefore it isn't surprising that Hong Seh has already sold over 400 units of electric commercial vehicles in 2022. If you are looking to make the switch to EV, look no further, Hong Seh is the choice.
To find out more about the DFSK commercial EVs you can reach out to Hong Seh Evolution at 8030 8030, or visit its showroom at 237 Alexandra Road, The Alexcier #01-06 Singapore 159929. You can also visit DFSK Singapore's website for more information on the EVs.