Text and Photos from boOm Singapore | 19 March 2018
boOm, a new boutique fitness outfit that wraps together functional training, weights and boxing moves in one seamless workout, has officially been opened.
Amidst the hustle of bustle of the Central Business District in Telok Ayer lies a new hidden gem of a gym - boOm Singapore. Pumping out thumping beats to funky lights as rows of water-filled boxing bags swing above hexagonal weights, the recently unveiled space brings a new workout concept that is sure to get anyone moving.
Centred at the core of boOm is boxing, a sport with a history dating back to the ancient Olympic games which has since grown in popularity and practice worldwide. Adding to the the jabs, hooks and uppercuts found in boxing, are complementary functional training elements that develop strength and agility in all major muscle groups.
boOm Singpaore is founded by fitness-passionate couple, former Olympian and National Swimmer Bryan Tay and his partner, Victoria Martin-Tay.
boOm Singapore's signature 'sweat sesh', boOm Box, is inspired in part from the polar starting points of its founders, as well as their years of experience in coaching and teaching. Boxing imparts a rigorous and disciplined workout with its cardio-vascular elements. However, Bryan believes firmly that 'it is easy to make someone tired, but hard to make someone strong', hence the duo introduced strength-based training to the workout. The 45-minute session is divided into 10 rounds of boxing power and precision, interspersed with targeted weight training for strength development. In additional to keeping everyone on their toes throughout the class, these indicidual elements also ensure that the class is not only unintimidating to beginners, but scaleable and satisfying for the more experienced as well.
boOm Singapore is located at 62 Cecil Street, B1-00, Singapore (049710). To find out more, head to
boomsingapore.com
.
Featured Business Listings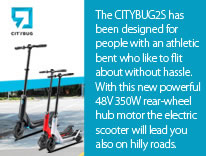 A leading bicycle and bicycle component distributor in
You May Also Like
Related Threads