Castrol EDGE Professional 5W40 A3 Engine Oil
$11
Posted on: 26 Oct 2021 | Updated on : 26 Oct 2021
Merchant information
(15 Reviews)
Blk 147 Bishan Street 11 S(570147)
91259516
Ad information
Castrol Edge Professional 5w-40 A3 engine oil. 
Fluid Titanium Technology.
Advanced Full Synthetic Engine Oil.
Meets Specifications:
ACEA A3/B3, A3/B4, BMW LL01, MB 226.5/229.3/229.5, Porsche A40 Reault RN0700/0710, VW 502.00/505.00
Please visit www.e-shoppinghouse.com for more of our products.
Due to unpredictable stock movement, certain items may be out of stock, kindly check the stock availability with us before heading over.
Please note that all purchases are strictly BY APPOINTMENT only.
Pickup timings:
Monday to Thursday: 9am to 9.30pm

Friday: 9am to 6pm (after 6pm to be pre-arranged)

Saturday: 9am to 6pm

Sundays and PHs: CLOSED
Pickup location:
BLK 147 BISHAN STREET 11 S(570147)
*Delivery and installation at buyer's own cost.
NOTE:
We may not be able to entertain walk-in customers. We will not be responsible if you walk-in without an appointment and we are unable to meet you or should you need to wait longer than expected.

Prices are not negotiable and are correct at the time of posting.

We reserve the right to amend the price based on the circumstances and the final price will be confirmed when order is placed.
Ad information
Castrol Edge Professional 5w-40 A3 engine oil. 
Fluid Titanium Technology.
Advanced Full Synthetic Engine Oil.
Meets Specifications:
ACEA A3/B3, A3/B4, BMW LL01, MB 226.5/229.3/229.5, Porsche A40 Reault RN0700/0710, VW 502.00/505.00
Merchant information
(15 Reviews)
Blk 147 Bishan Street 11 S(570147)

91259516
Posted on: 26 Oct 2021 | Updated on : 26 Oct 2021
Features & specs
Castrol EDGE 5W40 is a full synthetic motor oil that is engineered for drivers who want only the best from their engines. Castrol EDGE with Fluid Titanium is the natural choice for drivers who demand maximum performance and protection from their cars. Unlock exhilarating performance with every drive.

Did you know that friction can waste up to 10% of engine's performance?  Today's engines are smaller, more powerful and under more pressure than ever before. Increased demands placed on the engine to deliver performance and fuel efficiency means that friction should not impede engine performance.
Castrol EDGE with patented Fluid Titanium transforms its structure under pressure to keep metal apart. It reduces friction for maximum engine performance.

Features

Transforms to be strongest when the pressure is highest, protecting your engine
Reduces power-robbing friction across engine speeds and conditions
Independently tested at the highest standards for proven performance
Recommended by world-leading car manufacturers
Protects the engine for the entire drain interval even under extreme pressure
Delivers high levels of fuel efficiency and low-temperature performance
Suitable for use in hybrid vehicles

Application        
ACEA A3/B3, A3/B4
API SN/CF
BMW Longlife-01
MB-Approval 226.5 / 229.3 / 229.5
Porsche A40
Renault RN 0700 / RN 0710
VW 502 00 / 505 00
Consumer Reviews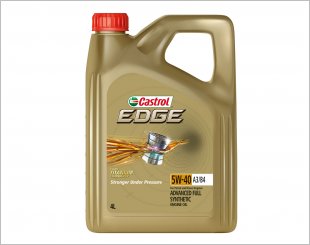 Have being using Castrol ever since my first car, it give me very smooth ride and performance. - Darren Tang, Toyota CHR SLP55--E
Reviewed by Mobile Reviewer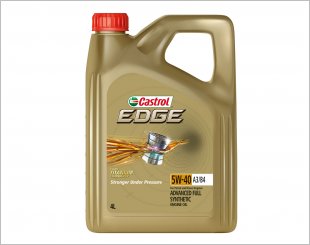 Ideal for the engine - Chua, Owner of Toyota Corolla Altis SKP35--R
Reviewed by Mobile Reviewer
More items from this seller
Email Enquiry
This enquiry will be sent directly to the seller.
*
indicates compulsory field.