Thinkware F750 Full HD WiFi 1-CH Car Camera (Front)
Posted on: 14 Dec 2020 | Updated on : 23 Dec 2020
Merchant information
(281 Reviews)
159 Sin Ming Road #01-09 Amtech Building S(575625)
9am - 6pm (Mon - Sat) 10am - 3pm (Sun) Closed on PHs
64555031 92269222
Ad information
Total F750 inclusive of 16GB, $548
Thinkware Dash Cam F750
1080p Full HD & Full HD 2Ch
30fps
Dual Save
Road safety Warning System
Safety Camera Alert
Built-in WiFi
Built-in GPS
2015 CES Innovation Awards Degree Honoree
Design Award Grand Slam (reddor, iF, IDEA)
Additional SD Card
16GB $40
32GB $80
64GB $140
We provide a range of services such as:
Car Audio Installation
Car Audio Customisation
Car Audio Tuning
Car Security System Installation
SoundProofing
Call us or visit our website to find out more!
Website:
http://www.autoimage.com.sg/
Facebook:
https://www.facebook.com/autoimage.sg/info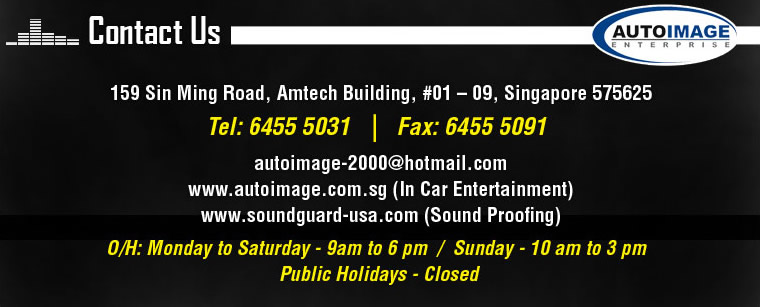 Ad information
Total F750 inclusive of 16GB, $548
Thinkware Dash Cam F750
1080p Full HD & Full HD 2Ch
30fps
Dual Save
Road safety Warning System
Safety Camera Alert
Built-in WiFi
Built-in GPS
2015 CES Innovation Awards Degree Honoree
Design Award Grand Slam (reddor, iF, IDEA)
Additional SD Card
16GB $40
32GB $80
64GB $140
Merchant information
(281 Reviews)
159 Sin Ming Road #01-09Amtech Building S(575625)

9am - 6pm (Mon - Sat) 10am - 3pm (Sun) Closed on PHs
64555031 / 92269222
Posted on: 14 Dec 2020 | Updated on : 23 Dec 2020
Features & specs
Thinkware Dash Cam F750
1080p Full HD & Full HD 2Ch 
30fps
Dual Save
Road safety Warning System
Safety Camera Alert
Built-in WiFi
Built-in GPS
2015 CES Innovation Awards Degree Honoree
Design Award Grand Slam (reddor, iF, IDEA)
Safe on the Road with F750 Latest Dash Cam Technology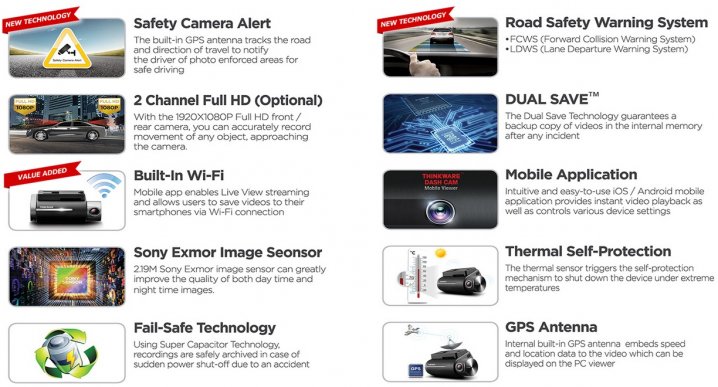 Thinkware Dash Cam F750 not only acts as a reliable eyewitness in the case of an incident, it is also your best protection against insurance frauds and road accidents. Equipped with the Road Safety Warning System that provides alerts for Lane Departure(LDWS) and Front Collision(FCWS), the F750 detects road markings and gives voice warnings to the drivers if the vehicle begins to stray from its lane or when it is at risk of an imminent collision.Such advanced technology that once could only be seen in the best luxury sedans is now available
in our dash cams to provide convenience and safety while aiding drivers on the road.

Safety Camera Alert
Exclusive safety feature from Thinkware – The Safety Camera Alert powers Thinkware Dash Cam to be on continuous alert for
photo enforcement locations on your driving routes while recording high quality videos at the same time.
Thinkware Dash Cam provides active warning for these 5 types of road safety cameras.

Dual Save Technology & In-Built Power Pack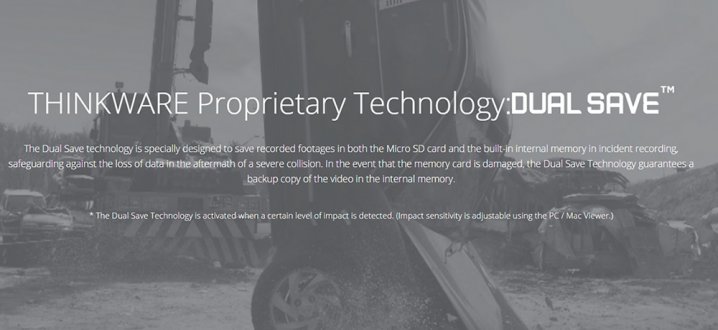 When a certain level of impact is detected, the recorded video is stored in both the micro SD memory and the NAND FLASH MEMORY via technology specialised for an automobile. The micro SD card can be damaged or separated from impact during an accident. But when Dual SAVE Technology is used, a certain level of impact is detected; you do not need to worry about losing the recording, as it is also saved in the NAND Flash Memory. You can immediately check the video saved in the NAND Flash Memory on the X500 Clear Display. You can copy it to the Micro SD card, as well as check it on the PC Viewer or Mac Viewer. To further enhance your car battery lifespan, Thinkware has designed an in-built powerpack which prevents the car battery from total discharge.
* Dual Save Technology is activated when a certain level of impact is detected as long as it is connected to a power supply (Impact detection level can be set according to user preference).
Built-In WiFi for Easy Control + Real-Time View
Now WiFi-enabled, you can easily control, manage and configure the settings of your dash cam with a smart phone.
Through the Thinkware Dashcam Mobile app*, the F750 provides a truly convenient way for you to view real-time recordings, download, access or delete recorded videos all on your mobile phone.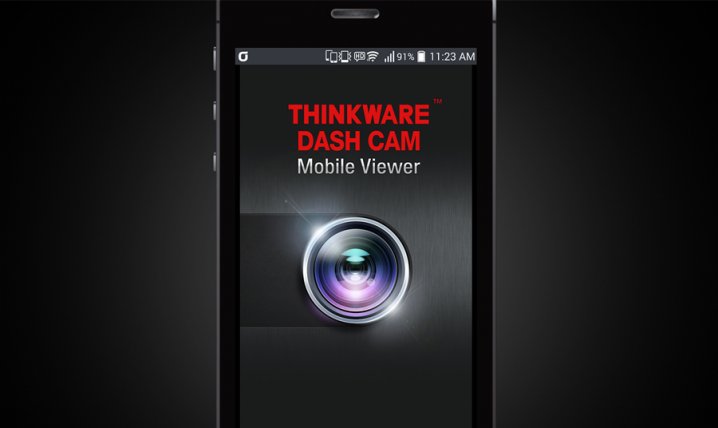 Best Image Correction Technology
Your car is subject to diverse conditions and environments, whether driving at night, under strong direct sunlight,or ENTERING and exiting a tunnel. F750 has various image correction processes such as WDR, Super NIGHT VISION, Smart AE and so others, that are optimised for the product, leaving you with a clear and accurate footage under any circumstances.
WDR (Wide Dynamic Range)

When you are under DIRECT sunlight, as you exit from a tunnel, or when you are overshadowed by high-rises, objects can appear too dark or too bright causing over or under exposed images. X500's WDR can remove the brightest part of a recorded video and adjust the overall balance to make a clean image.* The WDR can cause degradation in clarity while correcting the exposure. Please make sure to set it properly before use.

 

Super Night Vision (Nighttime Picture Quality Correction)

If there is no street light while driving at night or if it is too dark to detect an object, it is may be difficult to determine the exact situation. F750 has the Super NIGHT VISION, as a default function, to remove noise and ADJUST the brightness and colours at the sensor to save the results.

 

Smart AE (Automatic Exposure)

If you are driving under strong sunlight, or face a strong headlight from a car approaching you from the rear, it makes hard to identify the license place. Also, if you are driving in a tunnel, the darkness may make the situation difficult to understand. Use the F750's Smart AE to adjust the light and record accurate images with precision.
2.4 Million Pixel High Resolution Image Sensor
The 2.4 million pixel high resolution SONY Exmor CMOS image sensor can greatly improve the quality if night time images as well as day time images. Now, everything in front of X500 becomes brighter and clearer.
140 Degree Wide Angle
The highly precise optical glass lens records all surrounding images around your CAR, without missing a movement, while minimizing the distortion. The 140 DEGREE wide angle lens can record both front/side situations of the car.
Strong Processor, Ambarella A7
The CPU with the best specification is mounted for smart performance. The high specification CPU is applied to the sports cam. It minimizes power consumption while providing optimal performance. It is a globally competitive Dash Cam that can reliably support the main functions of X500 such as Front/Rear Full HD Ultra-high Quality Recording, Dual Save, WDR, Super NIGHT VISION, Smart AE and others.
Vivid Driving Information Based on the Built-in GPS
Using the GPS LOCATION information from F750, it can accurately pinpoint the vehicle's driving speed, routes on the map. The GPS helps you to accurately assess the status of the accident by providing you with the vehicle speed, the direction of movement and the direction and sensitivity of impacts. It can also record the routes traveled with your friend and families.
When your teenage kids drive your car, they can view the movement route and the driving information to correct driving techniques. F750 has the built-in GPS in it. 
Enhanced MAC/PC Viewer
With the Thinkware PC Viewer, you can access the recorded videos with time, speed, and location data on your PC or Mac computer. You may also use the APPLICATION to configure the device, as well as accessing firmware upgrades.
Accelerometer G-Sensor
On the X/Y/Z axes of the G-sensor, you can measure the changes in gravity, speed or rotation. At a glance, you can understand the axial movement and impact during an accident.
Extreme Temperature Resistant
Automatic Temperature Sensitive Shutdown Protection. Specially DESIGNED heat-discharging structure and high-temperature-blocking functions can safely protect the product and its images store under the strong sunlight. If the temperature rises above a certain level, you can use the SELF-PROTECTION SHUTDOWN function to protect the device and its videos by automatically powering off.
Secure Event Fail Recording
In the event of a power loss during an accident, the F750's fail-safe recording uses the Super Capacitor to ensure that any recordings in progress are stored securely, so you can be sure that your data is safe.
Various Autonomous Recording Modes
The X500 supports various recording modes that you can use according to your needs: Continuous Recording, Incident Recording, Motion Detection Recording, and Manual Recording.
Continuous Recording Mode
This mode is activated automatically when you start the engine. Recorded videos are saved in one-minute segments with an auto-looping mechanism.
Incident Recording Mode
The Active Impact Monitoring System will automatically store the ten seconds prior and after a collision registered by the 3-axis G-Sensor.
Parking Surveillance Mode
The F750 can support a parking surveillance mode that monitors your vehicle when the ignition is off. A combination of motion detection and impact monitoring is used to protect your car from hit-and-run incidents.
* This feature is only available when installed using the optional hardwiring cable. Professional installation is highly recommended.
Manual Recording
Similar to a video camera, you can use the Manual Recording Mode to capture events that occurs in front of you even if your vehicle is not involved. You can also use this feature to capture special moments, such as a falling meteor or a herd of bison crossing the road.
Automatic Switching between Parking Mode and Continuous Mode
After the CAR ENGINE stops, it will assess the voltage condition in the car and automatically switch to parking recording mode. In parking mode, motion detection recording is activated and incident recording is maintained. When you start the engine in parking mode, it will automatically switch to continuous recording mode without turning on the device.
* If you mount the continuous power cable, it supports automatic switching to the parking mode and motion detection recording function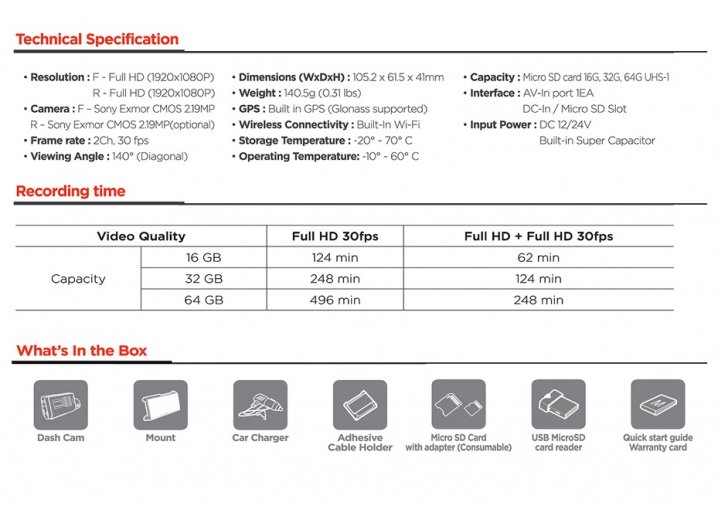 Consumer Reviews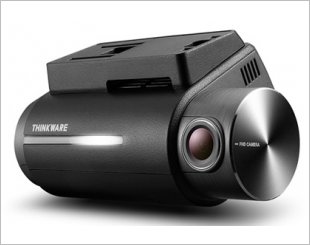 Got the front and back F750 dashcam as part of the freebies from AD. There are tons of features for this dashcam but to many it would probably be overkill and unnecessary. Connecting to it is a breeze and the resolution is very clear on both night and day. I think the only gripe I have is that the iVolt external battery for this dash cam is way over-price (currently S$450 excluding installation?!). In a dilemma whether to go for this or tap the battery (potentially voiding AD warranty on battery).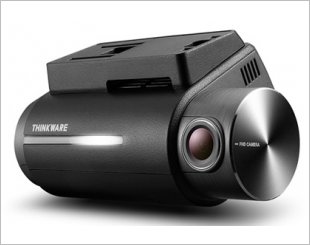 Good features and design. So far the F750 has been working reliably and have not encountered any WIFI connectivity issues. Was using iRoad V7 in my previous ride which had WIFI connectivity issues all the time.
Email Enquiry
This enquiry will be sent directly to the seller.
*
indicates compulsory field.