Condition
Excellent [5/5]
Posted on: 04 Feb 2017 | Updated on : 05 Feb 2017
Seller information
Seller's contact information has been removed as item has already been sold
Ad information
Selling 2 set of Iroad V7 used for 1 year 2 month
selling coz my new car comes with cam
1 set $150
2 set $300
No Nego i set lowest price so we dont have to waste time for everyone
IROAD V7 – OverView • FRONT:HD(1280x720p), 30Frame, REAR:HD(1280x720p) 30Frame • A20 DUAL CORE CPU Embedded, provides stable 2channel images • 2CH REAL HD CMOS image sensor camera • Wi-Fi:watching live front/rear view on smartphone. settings, firmware auto update using dedicated mobile application. • Built-in voltage control(uninterrupted power):prevent battery discharge Automatic switch to parking mode • 132 degrees wide viewing angle & high sensitive 3 axis impact sensor • Memory card auto recovery auto format • car attack alert/external GPS antenna { optional }
Ad information
Selling 2 set of Iroad V7 used for 1 year 2 month
selling coz my new car comes with cam
1 set $150
2 set $300
No Nego i set lowest price so we dont have to waste time for everyone
IROAD V7 – OverView • FRONT:HD(1280x720p), 30Frame, REAR:HD(1280x720p) 30Frame • A20 DUAL CORE CPU Embedded, provides stable 2channel images • 2CH REAL HD CMOS image sensor camera • Wi-Fi:watching live front/rear view on smartphone. settings, firmware auto update using dedicated mobile application. • Built-in voltage control(uninterrupted power):prevent battery discharge Automatic switch to parking mode • 132 degrees wide viewing angle & high sensitive 3 axis impact sensor • Memory card auto recovery auto format • car attack alert/external GPS antenna { optional }
Seller information
Seller's contact information has been removed as item has already been sold
Posted on: 04 Feb 2017 | Updated on : 05 Feb 2017
Features & specs
The IROAD V7 has a 2CH REAL HD CMOS image sensor camera.
Features
Front & Rear: HD(1280x720p), 30frame
A20 Dual Core CPU embedded provides 2 channel images
2CH REAL HD CMOS image sensor camera
WiFi: Watching live front/rear view on smartphone - settings, firmware auto update using dedicated mobile application
Built-in voltage control (uninterrupted power) 

- Prevent battery discharge

- Automatic switch to parking mode

132 degrees wide viewingangle & high sensitive 3 axis impact sensor
Memory card auto recovery auto format
Car attack alert / External GPS antenna
Play front/rear view live images and saved recordings VIA WiFi
Change settings, automatic firemware update VIA WiFi
Automatic memory card recovery function.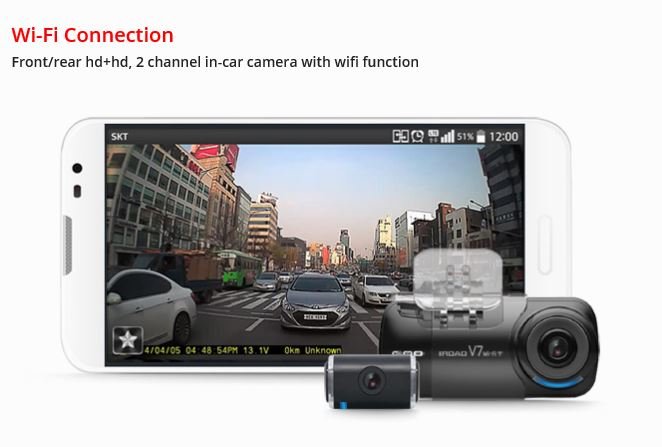 WiFi function for other existing in-car cameras is rather giving users a real hassle and is hard to connect. IROAD V7 provides automatic connection/disconnection function (ie WiFi is automatically connected after running iROAD mobile application, disconnected after exiting the application).
Now enhanced with WiFi function IROAD V7 has to offer, will relieve users of rather complications once connected to wifi, users are able to watch live screen/saved recordings, change settings and automatic firmware update.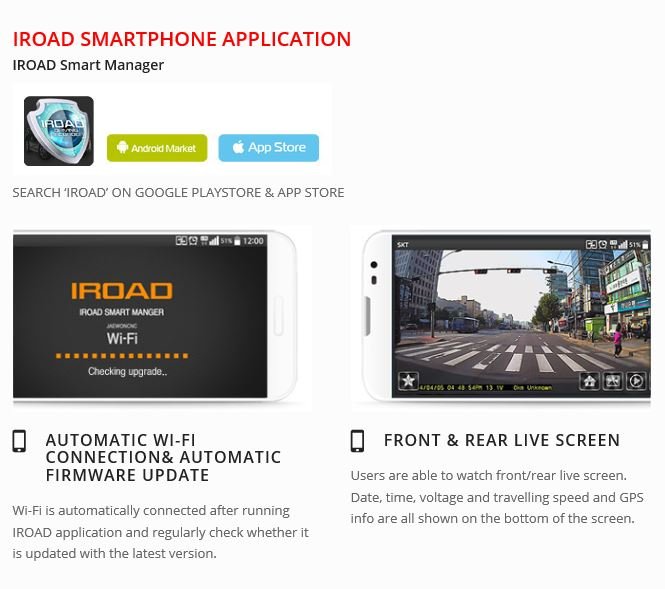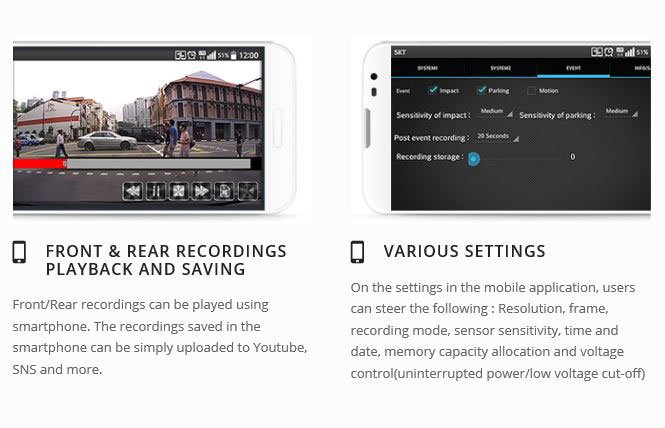 HD 30 Frame + HD 30 Frame
Front & Rear Seamless and Smooth Recording
IROAD 2CH 60 frame in-car camera
IROAD V7 records high resolution videos at steady 60 frame (30 per camera), seamless and smooth ones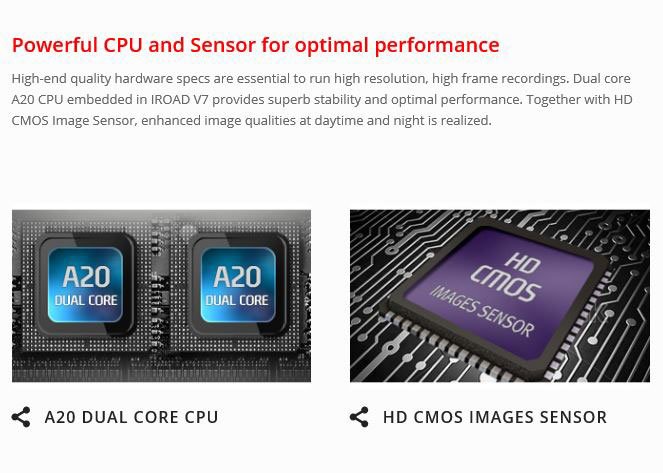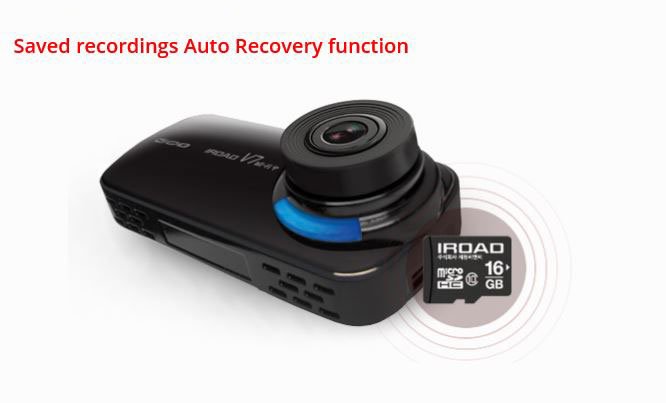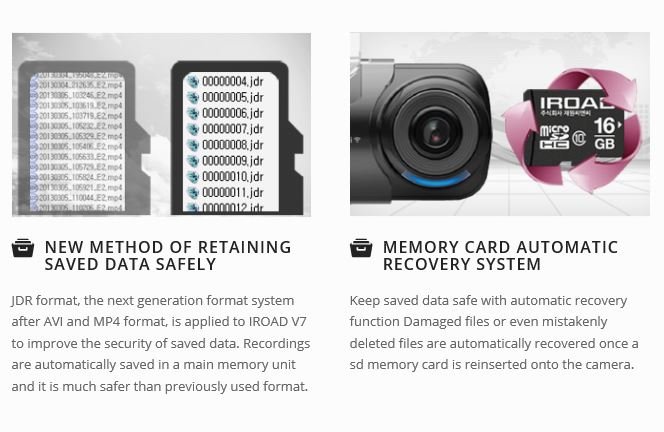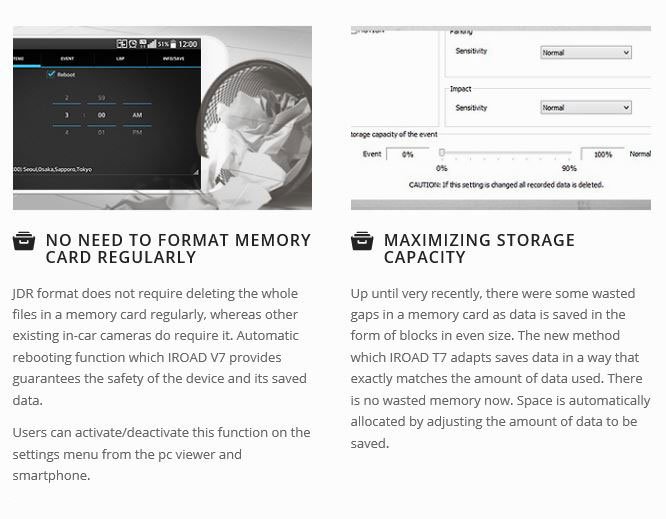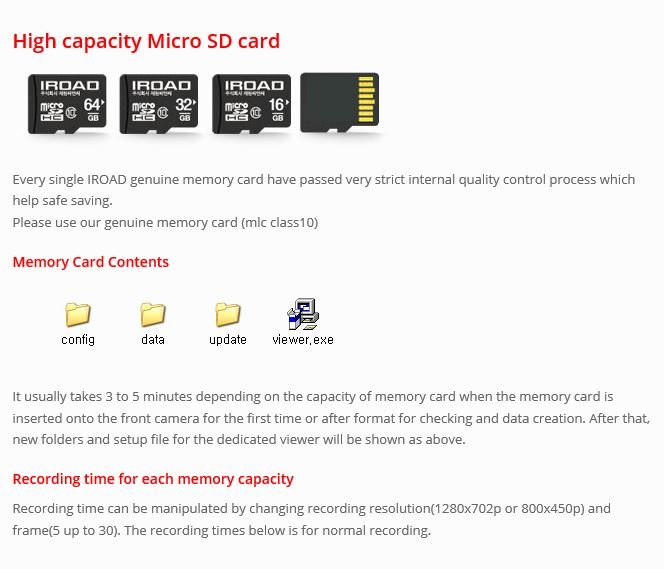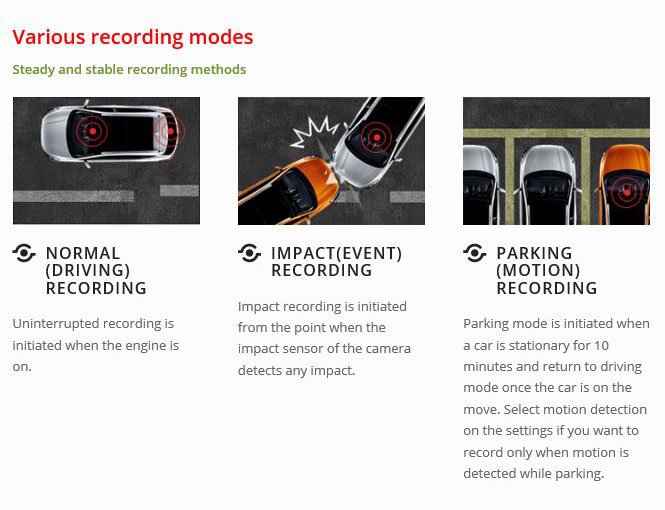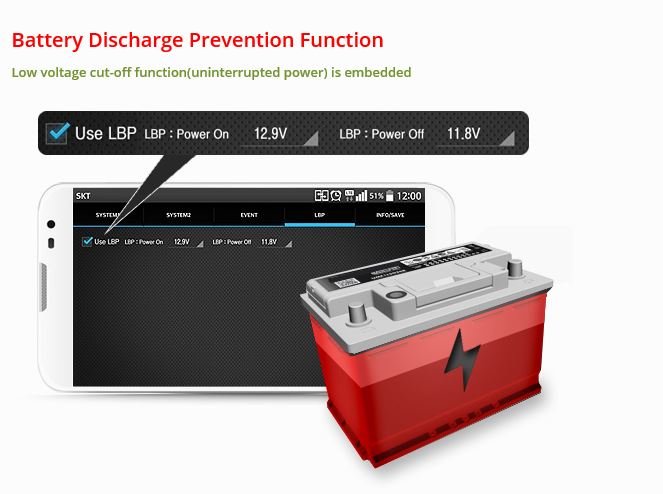 For the purpose of battery protection, IROAD V7 automatically detects and cuts off voltage when the voltage drops below certain point. Once initiated, recording is stopped and power is turned off. The motion detection function is effective for saving battery.
If you do not drive often or have very old battery which has to be replaced soon, please turn on the engine frequently to recharge the car battery before using 24 hour recording. This way will surely prevent the possibility of battery discharge. If the car is parked long term, please disconnect the power jack to avoid natural discharge.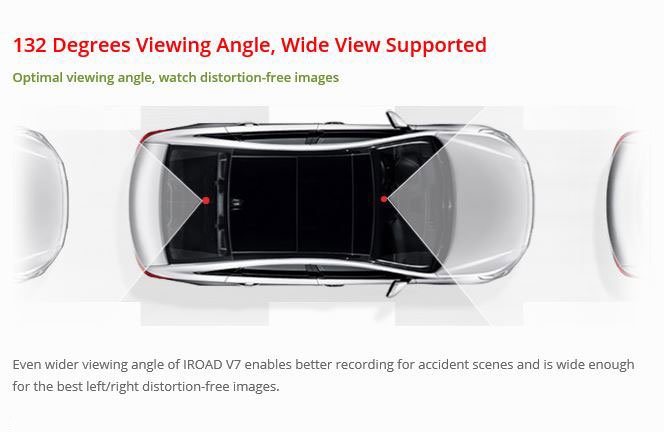 Dedicated PC Viewer for More Focused Monitoring
New IROAD WiFi Exclusive PC Viewer
Easy watch and play recordings on the dedicated PC viewer. What you can do with the viewer: Front/rear recordings playback, check travelling speed, GPS information, adjust settings and configuration.
Its installation file is included in a memory card provided (automatc creation followed by rebooting). Alternatively, download it form the official website.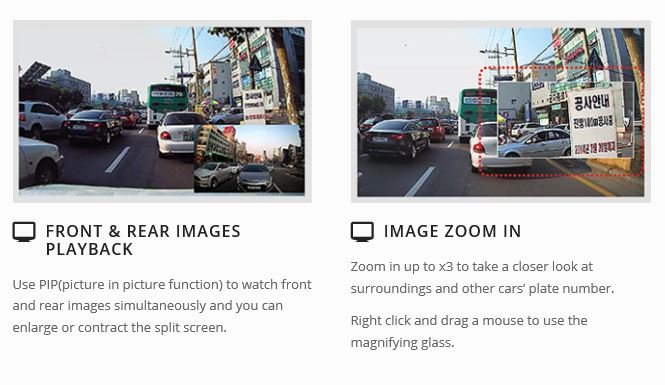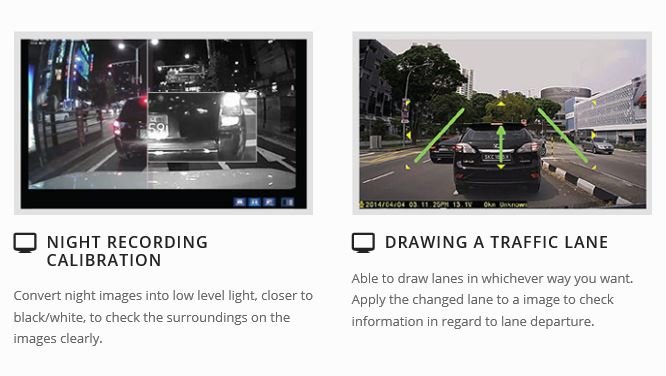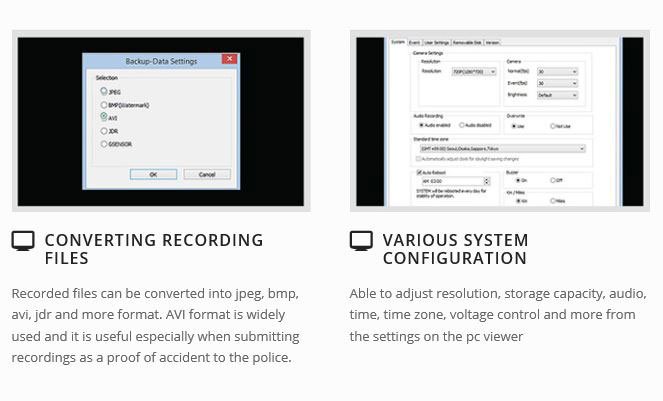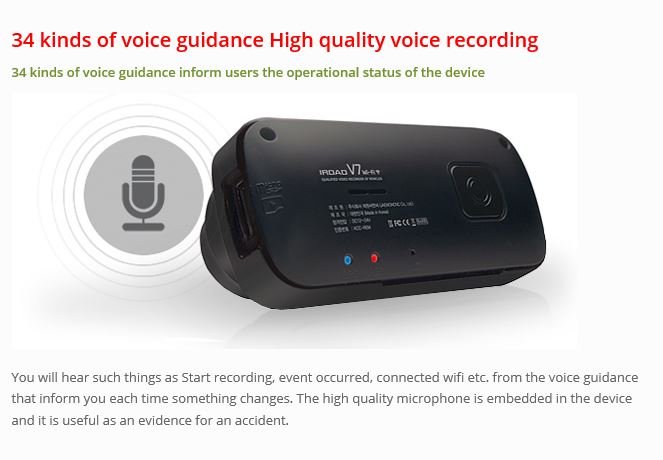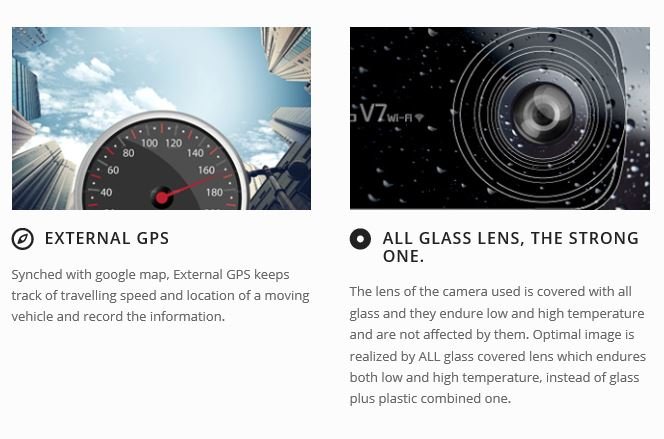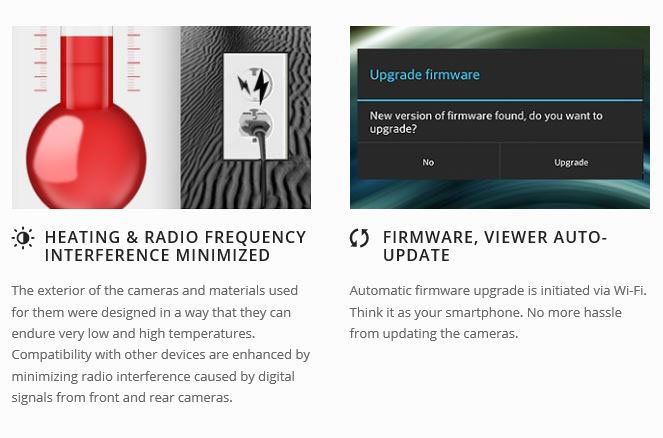 IROAD V7 Front Daytime
IROAD V7 Rear Daytime
IROAD V7 Front Night
IROAD V7 Rear Night
Specifications
Image Sensor: 2.3 megapixel CMOS Image Sensor
Resolution/Frame/View Angle: Front 1280x720 / 30fps, Rear 1280x720 / 30fps, 132 degrees
WiFi: External WiFi supported - Smartphone playback and settings, firmware auto-update
WiFi button: 

- Smartphone registration standby mode ON/OFF

- Voice recording ON/OFF

Audio Input: Microphone embedded
Video/Audio Compression: H.264 / ADPCM
Vibration Sensor: 3 axis acceleration sensor (recording initiated by external impact)
Voice Guidance (speaker): Effect sound for informing operational status and voice guidance supported
External GPS Sensor: Synched with google map, keep track of location and travelling speed
Storage Medium: Micro SD 4GB - 64GB (recommended type MLC Class 10)
Recording Modes: Uninterrupted (driving) mode, Event (impact) mode, Parking (motion detection) mode, Voice recording
Constant Power (low voltage cut-off): Constant power (low voltage cut-off) function embedded
Power: DC 12V - 24V
Operating temp/ Humidity: -20 - 70C (Storage temperature: -20 - 90C) / 10 - 95%
Viewer:iROAD V7 dedicated viewer: Windows XP, VISTA, Win7, Win8 (32Bit - 64Bit supported)
Application: iROAD App (Android 2.3 and higher version, iOS 5.0 and higher version
Warranty for IROAD V7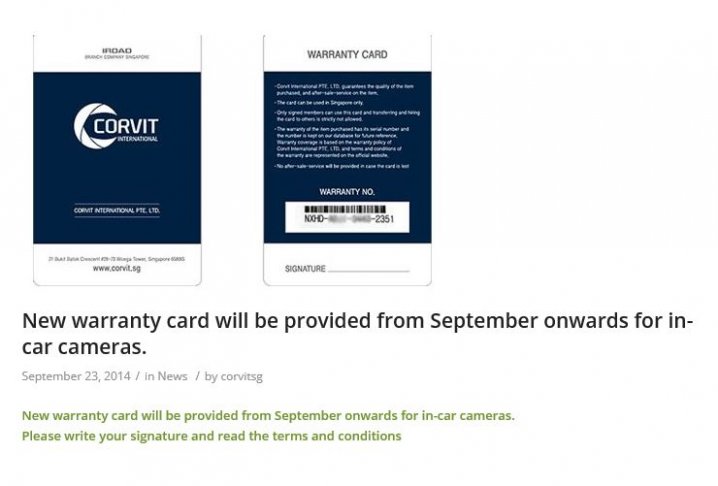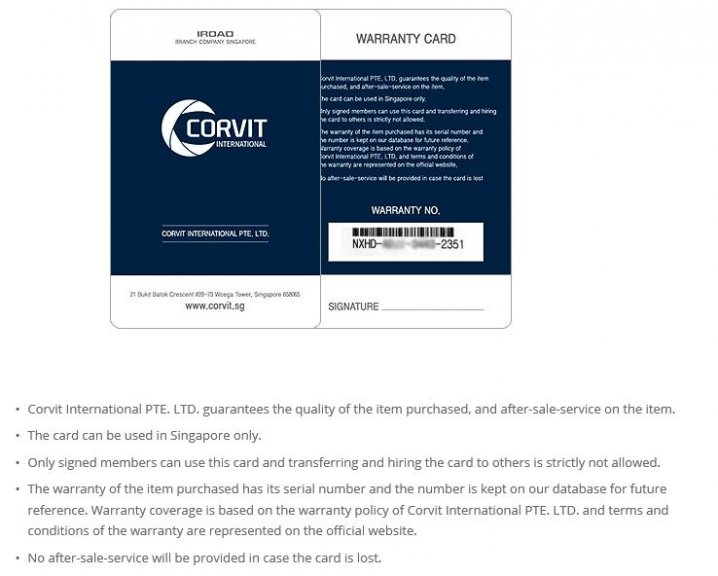 For more information, check out our website!
Official website : http://corvit.sg/wordpress/?page_id=3335
Consumer Reviews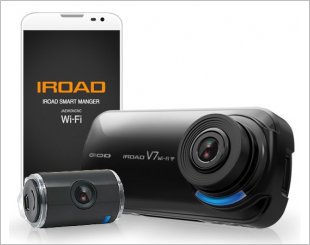 Support is bad, and updates seem to make the camera worse. Latest update has disabled the back camera live view, and i didnt have that issue before. Takes up alot of power from the car battery, for its limited features and poor definition on video capture. I've tested the live view, in most average car parks, the camera lens isnt even powerful enough to show the car plate of a car directly in a parking space opposite me. (Even at max zoom).I would not bet my dollar on this actually working when you really need it in the case of an accident. Dont try to save money, get a blackvue or thinkware, nuff said.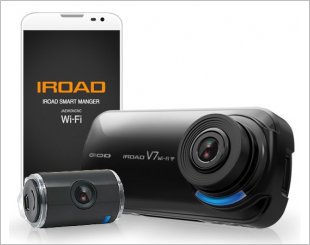 I have installed this for 2 years. After 11mths, the videos could not be recorded. I went back to get it fixed after email correspondences with the company but was told that the warranty has expired after the correspondences were completed. I managed to argue for a waiver which was granted. The camera were faulty again after another year. This time, it was diagnosed as damaged 'internal circuit board". The back camera just died without any explanation. When questioned about the reliability of the product, the rep smiled and said that he cannot comment on that.
More items from this seller
Email Enquiry
This enquiry will be sent directly to the seller.
*
indicates compulsory field.