Pioneer DEH-5450SD CD-Player
Condition
Excellent [5/5]
Posted on: 18 Sep 2021 | Updated on : 20 Sep 2021
Merchant information
(281 Reviews)
159 Sin Ming Road #01-09 Amtech Building S(575625)
9am - 6pm (Mon - Sat) 10am - 3pm (Sun) Closed on PHs
64555031 92269222
Ad information
Composition
Tuner: has a digital
CD players: yes
MP3-players: yes
DVD-player: no
Blu-ray player: no
Amplifier: yes
Equalizer: yes
Navigator: no
TV tuner: no
General characteristics
Maximum power: 4x50 W
Size: 1 DIN
CD-changer interface is: no
Color: black
Supported carriers and formats
Formats: CD-Audio, MP3, WMA, AAC
Media: CD-R, CD-RW, iPod
Memory card support: SD, MMC
Display
Display Type: monochrome
Management
Infrared remote: yes
A joystick on the steering wheel: it is possible to connect
Pause when speaking on the phone: yes
Search for a folder/file: yes
Auto plants: yes
Interfaces
Inputs: USB
Front-panel USB: no
Audio input on the front panel: yes
Outputs: audio subwoofer PreAmp
Bluetooth Support: no
Protection
Detachable panel: yes
Security codes: yes
Tuner
Support band: FM, MW, LW
RDS: RDS RDS/EON, RDS, PTY
Tuner with long reception: yes
Number of preset FM/AM: 18 / 6
Additional information
Adjusting the voice: yes
The number of bit DAC: 24
The number of bands equalizer: 5
Number of preset equalizer settings: 7
ID3 tag support: yes
CD-text: yes
Tone compensation: yes
Dimensions (WxHxD): 178x50x160 mm
We provide a range of services such as:
Car Audio Installation
Car Audio Customisation
Car Audio Tuning
Car Security System Installation
SoundProofing
Call us or visit our website to find out more!
Website:
http://www.autoimage.com.sg/
Facebook:
https://www.facebook.com/autoimage.sg/info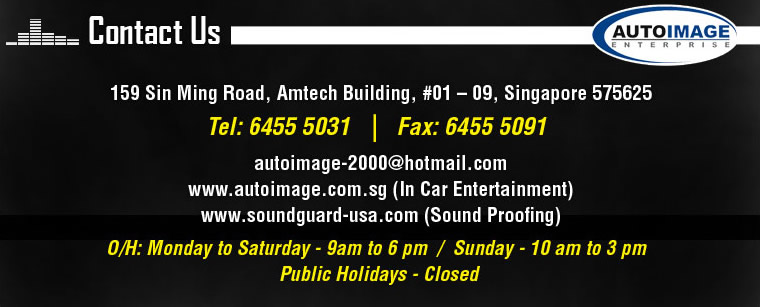 Ad information
Composition
Tuner: has a digital
CD players: yes
MP3-players: yes
DVD-player: no
Blu-ray player: no
Amplifier: yes
Equalizer: yes
Navigator: no
TV tuner: no
General characteristics
Maximum power: 4x50 W
Size: 1 DIN
CD-changer interface is: no
Color: black
Supported carriers and formats
Formats: CD-Audio, MP3, WMA, AAC
Media: CD-R, CD-RW, iPod
Memory card support: SD, MMC
Display
Display Type: monochrome
Management
Infrared remote: yes
A joystick on the steering wheel: it is possible to connect
Pause when speaking on the phone: yes
Search for a folder/file: yes
Auto plants: yes
Interfaces
Inputs: USB
Front-panel USB: no
Audio input on the front panel: yes
Outputs: audio subwoofer PreAmp
Bluetooth Support: no
Protection
Detachable panel: yes
Security codes: yes
Tuner
Support band: FM, MW, LW
RDS: RDS RDS/EON, RDS, PTY
Tuner with long reception: yes
Number of preset FM/AM: 18 / 6
Additional information
Adjusting the voice: yes
The number of bit DAC: 24
The number of bands equalizer: 5
Number of preset equalizer settings: 7
ID3 tag support: yes
CD-text: yes
Tone compensation: yes
Dimensions (WxHxD): 178x50x160 mm
Merchant information
(281 Reviews)
159 Sin Ming Road #01-09Amtech Building S(575625)

9am - 6pm (Mon - Sat) 10am - 3pm (Sun) Closed on PHs
64555031 / 92269222
Posted on: 18 Sep 2021 | Updated on : 20 Sep 2021
Email Enquiry
This enquiry will be sent directly to the seller.
*
indicates compulsory field.