Motul H-Tech 100 Plus 5W30 Vehicle Servicing
$120
Posted on: 23 Jan 2023 | Updated on : 23 Jan 2023
Merchant information
(3 Reviews)
48 Toh Guan Road East #01-136 Enterprise Hub S(608586)
10am - 7pm (Mon - Fri) 10am - 6pm (Sat) Closed on PHs
84025982
Ad information
Motul H-Tech 100 Plus 5W30
Includes:
5L engine oil

Oil Filter

Full vehicle check

Free Tyre rotation & Balancing

Ad information
Motul H-Tech 100 Plus 5W30
Includes:
5L engine oil

Oil Filter

Full vehicle check

Free Tyre rotation & Balancing

Merchant information
(3 Reviews)
48 Toh Guan Road East #01-136Enterprise Hub S(608586)

10am - 7pm (Mon - Fri) 10am - 6pm (Sat) Closed on PHs
84025982
Posted on: 23 Jan 2023 | Updated on : 23 Jan 2023
Features & specs
Designed for fuel economy performance and provide ultimate level of power especially for recent gasoline engine designs. Suitable for turbo or naturally aspirated gasoline engines, equipped with catalytic converters. Suitable for all gasoline engines using leaded or unleaded gasoline, LPG, Autogas fuel. All driving conditions : City, Road, Highway.
Performance
Standard
ILSAC GF-5
API SN

 

Designed to meet the new ILSAC GF-5 and API SN specifications. Provides exceptional engine protection and at the same time even more efficient operation. Improved fuel economy and greater power when compared to more viscous products.
Formulated with latest technology to ensure emission control systems durability. The high performance anti-wear additive results in reduction of engine internal frictions and increases engine life duration by reducing wear.
Excellent anti-oxidation preventing premature oil thickening and ageing due to thermal stress.
Very efficient anti-deposit and anti-black sludge power which maintains a clean engine.
Anti-corrosion, Anti-foam properties.
Recommendations
Drain Period : According to manufacturers' recommendations and driving patterns.
Properties
Viscosity grade : SAE J 300 | 5W-30
Density at 15°C (59°F) : ASTM D1298 | 0.849
Viscosity at 100°C (212°F) : ASTM D445 | 10.1 mm²/s
Viscosity at 40°C (104°F) : ASTM D445 | 58.9 mm²/s
Viscosity index : ASTM D2270 | 160
TBN : ASTM D2896 | 6.1 mg KOH/g
Consumer Reviews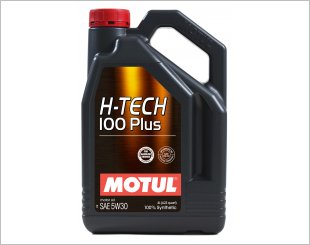 So far this engine oil have done a good job to my engine reducing alot of engine noise when accelerating and it can actually last longer than 10k. It can do 20k which my friend have done it before once.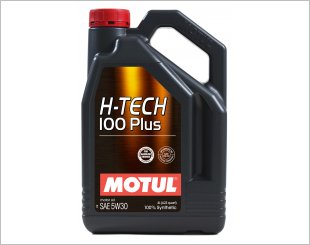 First tiime user of Motul H-Tech 100 Plus, and am impressed with the performance and fuel economy that it offers In a nutshell, MOTUL = Magnificent fuel economy & engine protection Optimum orgasmic experience "Tok kong" engine oil Ultimate all rounder Longer oil change intervals
More items from this seller
Email Enquiry
This enquiry will be sent directly to the seller.
*
indicates compulsory field.