Motul 300V Competition 15W50 Vehicle Servicing
$120
Posted on: 23 Jan 2023 | Updated on : 23 Jan 2023
Merchant information
(3 Reviews)
48 Toh Guan Road East #01-136 Enterprise Hub S(608586)
10am - 7pm (Mon - Fri) 10am - 6pm (Sat) Closed on PHs
84025982
Ad information
Motul 300V Competition 15W50
Includes:
5L engine oil

Oil Filter

Full vehicle check

Free Tyre rotation & Balancing

Ad information
Motul 300V Competition 15W50
Includes:
5L engine oil

Oil Filter

Full vehicle check

Free Tyre rotation & Balancing

Merchant information
(3 Reviews)
48 Toh Guan Road East #01-136Enterprise Hub S(608586)

10am - 7pm (Mon - Fri) 10am - 6pm (Sat) Closed on PHs
84025982
Posted on: 23 Jan 2023 | Updated on : 23 Jan 2023
Features & specs
MOTUL has developed "Double Ester Technology" for the new 300V series, superior to complex esters that are recognised as the best base oil for engine oils up till now. Double Ester Technology, made by carefully balancing the ratio of complex esters and the newly developed macromolecular high polymer esters, enable a wider range in base oils, and delivers higher output performance and superior reliability.

By carefully selecting the right polymer balance, "0% shear loss*" can be achieved. 
*Diesel Injector method (CEC L-14-A-93), a standardized testing procedure for a lubricant's shearing force.  
Can be mixed with another viscosity of same series to achieve most suitable viscosity for the engine (except for 5W40).

Applications
Racing cars with atmospheric or turbocharged engines, race engines operating at very high temperature and high rpm : race on tracks, drag racing, single brand races, endurance races; Le Mans 24H, rallies, uphill races, rally raid, Paris/Dakar, dirt or ice races
Engine producing medium or high fuel dilution in the oil.
Also recommended for gasoline or diesel engines, turbocharged, direct injection, catalytic converters and vintage cars.

Performance Features
Double Ester technology
Maximum oil film resistance, balanced polarity, resistance at very high temperature
Friction modifier
Maximum power output, decrease operating temperature
0% shear loss
Stable oil pressure whatever using conditions
Maximum anti-wear resistance
Perfect engine cleanliness
15W50 grade is able to absorb fuel dilution in the oil and maintains high oil pressure. Engine can run at very high temperature
Consumer Reviews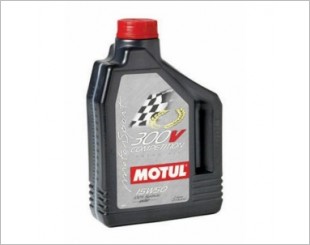 I heard a lot of good reviews online about Motul engine oil, so I gave it a try and I'm impressed. My Evo's idling has never been so quiet and smooth before, and my acceleration is immediate, smooth and constant with no hiccups. My fuel mileage has definitely improved because of this oil, and my engine sounds quieter these days. Overall, it justifies the high price.
Email Enquiry
This enquiry will be sent directly to the seller.
*
indicates compulsory field.